Bhutan Culture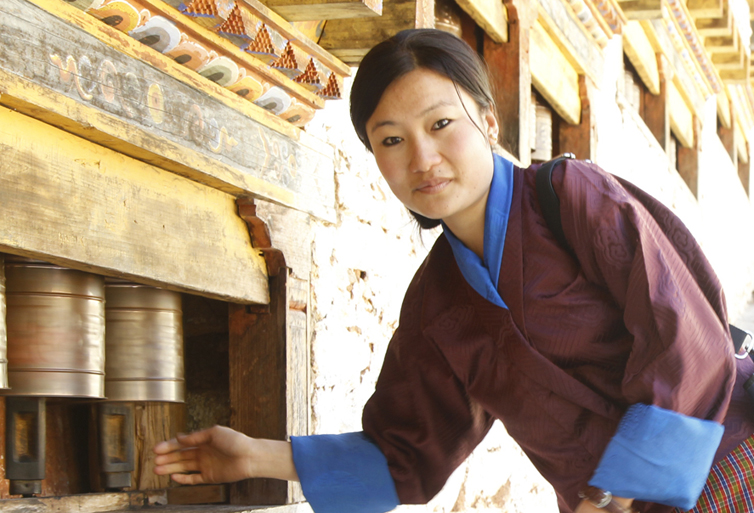 Buddhists spin prayer wheels whenever they can, believing each spin is the same as reciting a prayer.
REGIONS: Regions & Attractions
Today, Bhutan is one of the most popular travel ends. A land of amazing beauty with a practically untouched environment and welcoming yet traditional natives. To the adventurer, Bhutan is a challenging and inviting destination. Interest in Bhutan comes naturally as this tiny Himalayan Kingdom, about Switzerland's size, was carefully guarded from the outside world for hundreds of years. The door to this storybook Buddhist country was partially unbolted to the outside world only about some thirty years ago. Still, even these days, visitors to Bhutan is still controlled through a regulation of 'high-value low volume' tourism.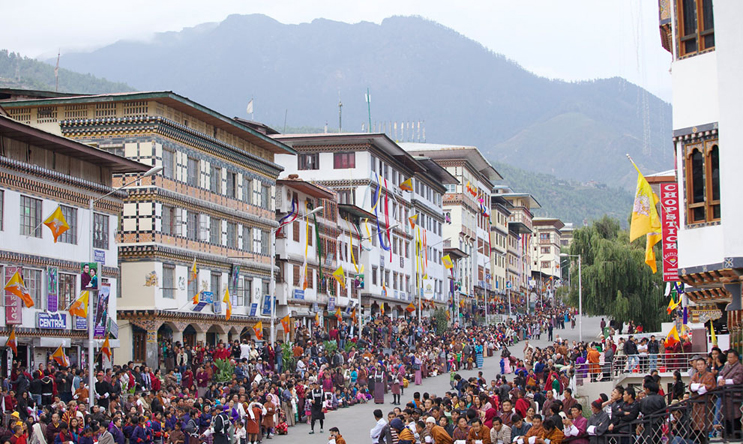 Crowds in the main street of Thimphu thronging to greet the Royal Couple at the Royal Wedding of His Majesty the King, Khesar Namgyal Wangchuck and Her Majesty the Queen, Jetsun Pema.
In this modern era, when tourism often dictates the national economies of countries, travel to Bhutan is a refreshing experience. Here, a deeply ingrained sense of hospitality, a universally acknowledged ecosystem and a living culture ensures every traveller gains the best that any nation has on offer. Travel to Bhutan is truly an exploration.
Explore a tradition and culture that has been preserved through the centuries. In Bhutan, it is not about seeing a display showcased for tourists but living and sharing an experience with the Bhutanese. From religious festivals to a celebration on a farm or a game of archery, become a part of it all. This is true interactive travel.
Our cultural tours run through the regions of western, central and eastern Bhutan, which have distinctly different geographical features, language, people, architecture, culture and ways of life.
Western Bhutan comprises- Haa Valley (2670 m, 8760 ft.) which opened to visitors only in 2001; Paro (2280 m, 7480 ft.) the Valley that encompasses the only internatonal airport in Bhutan; Thimphu (2320 m, 7600 ft.) the capital city; Punakha Valley (prevously summer capital) and Wangduephodrang (1250 m, 4200 ft.) whose dzong sadly burnt down in 2012. Western Bhutan is known for its stunning scenery with beautiful farmlands and apple orchards and pristine rivers from perpetual snow-capped mountains meandering through the main towns of Paro, Thimphu, Punakha and Wangduephodrang.
Central Bhutan is separated from Western Bhutan by the Pelela Pass (3420 m) in the Black Mountain ranges. The Pelela Pass is what separates the West from the East. The region includes Trongsa (2180 m, 7153 ft.) and the valleys of Bumthang (2580 m , 8500 ft.), comprising of Chumey, Choekhor, Tang and Ura valleys. Central Bhutan is known for its buckwheat cultivation, sturdy stone houses, and presence of ancient monasteries and temples.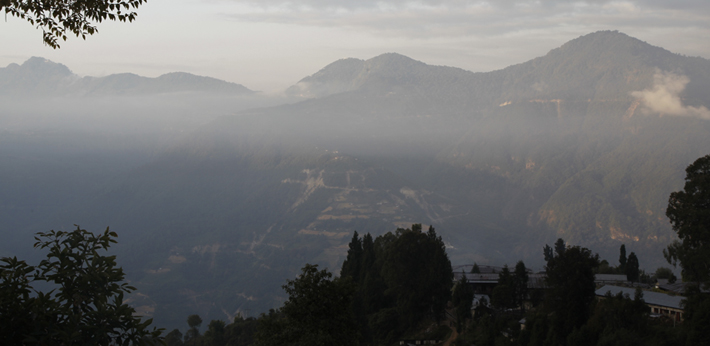 Eastern Bhutan (above, on the way to Mongar) is the least traveled area of the country because of terrain and distance. It is also a least developed area and tour to eastern Bhutan provides a complete rustic experience. This region comprises Mongar (1600 m, 5250 ft.), Lhuentse (1555 m, 5100 ft.), Trashigang (1070 m, 3525 ft.) and Tashiyangtse (950 m, 3200 ft.). Merak and Sakteng, two nomadic villages in the extreme north east of Bhutan bordering Tibet stands as the legendary beauty of eastern Bhutan. Eastern Bhutan is known for exotic textiles weaving tradition and simple lifestyles of people. Further down the south east is Samdrup Jongkhar, a small commercial hub of eastern Bhutan, which also serves as a convenient entry and exit point.
Tsechus (Festivals)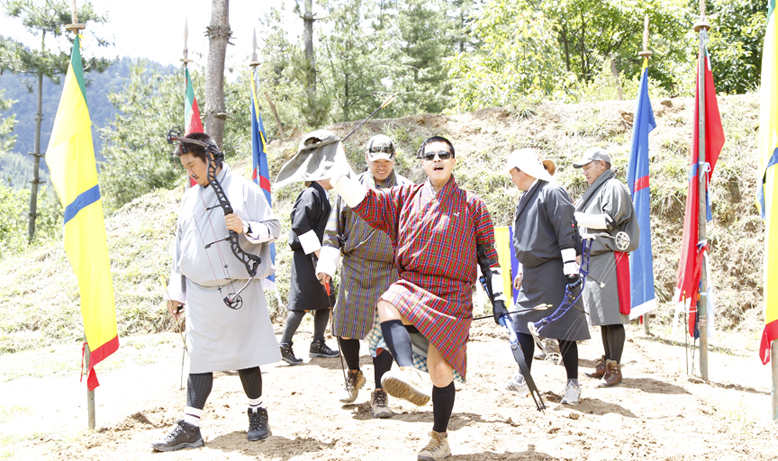 On tsechus and other holidays, men often pick up their bows and arrows to take part in the National Sport of Archery- (Long distance, around 130 meters or 430 ft).

A Tsechu (literally "day ten") is an annual religious Bhutanese festival held in each district or dzongkhag of Bhutan on the tenth day of a month of the lunar Tibetan calendar. The month depends on the place, but usually it is around the time of October. Tsechus are religious festivals of the Drukpa Kargyu sect of Buddhism. The Thimphu tsechu and the Paro tsechu are among the biggest of the tsechus in terms of participation and audience. Tsechus are large social gatherings, which perform the function of social bonding among the people of remote and spread-out villages. Large markets also congregate at the fair locations, leading to brisk commerce.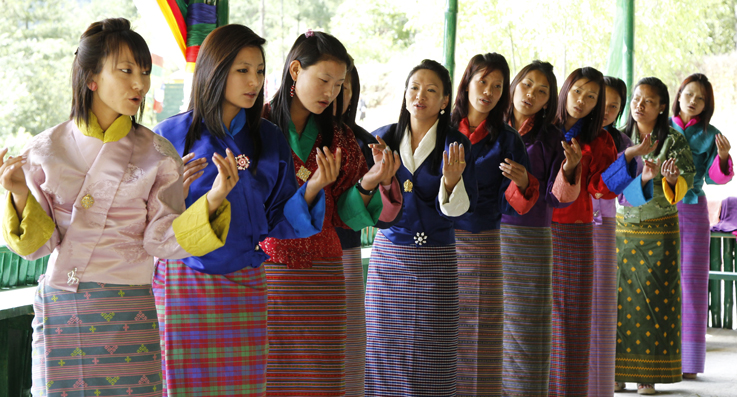 Dancing women are a big part of the celebrations...

Tsechu traditions
The focal point of the tsechus are the sacred Cham Dances, which incidentally have been banned by the Chinese government in neighboring Tibet. These costumed, masked dances typically are moral vignettes, based on incidents from the life of the 9th century Nyingma teacher Guru Padmasambhava (also known as Guru Rinpoche) and other saints. Most tsechus also feature the unfurling of a thongdrel (very large thangka) - a large tapestry typically depicting a seated Guru Rinpoche surrounded by holy beings, the mere viewing of which is said to cleanse the viewer of sin. The thongdrel is unrolled before dawn and rolled up by morning.
History of Tsechus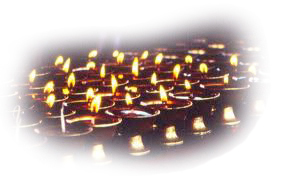 Guru Padmasambhava, the great Nyingmapa scholar, visited Tibet and Bhutan in the 8th century and 9th century. He used to convert opponents of Buddhism by performing rites, reciting mantras and finally performing a dance of subjugation to conquer local spirits and gods. He visited Bhutan to aid the dying King Sindhu Raja. Padmasambhava performed a series of such dances in the Bumthang valley to restore the health of the King. The grateful King helped spread Buddhism in Bhutan. Padmasambhava organised the first tsechu in Bumthang, where the eight manifestations of Guru Rinpoche (Padmasambhava being the human form) were presented through eight forms of dances. These became the Chams depicting the glory of Padmasambhava.

---