Dagala Thousand Lakes Trek
- 11 Nights 12 Days
- Western Bhutan
---
Duration: Eleven Nights Twelve Days (Trek- 6 Days)

High Season- March, April, May, September, October & November
Low Season- January, February, June, July, August & December
| | | | | | | | | | | | |
| --- | --- | --- | --- | --- | --- | --- | --- | --- | --- | --- | --- |
| Jan | Feb | Mar | Apr | May | Jun | July | Aug | Sept | Oct | Nov | Dec |
| | | | | | | | | | | | |
Max. Elevation: 4,520 metres
Highest Camp: 4,300 metres
Standard: Medium
Best Seasons: April to June and September to October
Start: Semtokha Dzong (Thimphu)
Finish: Genekha (15 kms from Paro)
---
Dagala Lakes Trek Summary:
The trek leads up to plenty of beautiful high altitude mountain lakes and provides stunning views of the whole Bhutanese Himalayan range as well as Mt. Kanchenjunga, the 3rd highest mountain of the world. As this trek is still not very well known you might not meet any other trekkers during the whole trek. Incidentally, it is also possible to start and end the trek in Genekha. The optional route back to Genekha leads through beautiful Bhutanese villages. Although most days are short, the day from Gur to Labatama involves a lot of climbing and is therefore pretty strenuous.
---
Itinerary Outline:
Day 01: Arrive Paro International Airport.
Day 02: Paro – Sightseeing
Day 03: Paro – Thimphu
Day 04: Thimphu – Sightseeing
Day 05: Genekha – Gur (Trek Begins)
Day 06: Gur – Labatama
Day 07: Relaxation day at Labatama
Day 08: Labatama – Panka
Day 09: Panka-Talakha
Day 10: Talakha – Chamgang (Trek Ends)
Day 11: Thimphu – Paro Excursion to Taktsang Monastery.
Day 12: Departure from Paro airport
---
Detailed Itinerary:
Day – 1 Arrive Paro International Airport.
During the flight, one will experience breathtaking views of Mount Everest, Kanchenjunga and other famous Himalayan peaks, including the sacred Jhomolhari and Mount Jitchu Drakey in Bhutan. On arrival at Paro International Airport, you will be received by our representative and escorted to your Hotel where arrangements have been made for two nights. Evening relax at the hotel or take a stroll around the town or hotel compound.
Day – 2 Paro – Sightseeing
Morning : Drive to Drugyal Dzong (a ruined fortress– 16 kms away from Paro Town). Although in ruins, this Dzong is of great historical significance. It was here that the Bhutanese finally defeated the invading Tibetans and drove them back. From here, the peak of Jhomolhari "Mountain of the Goddess" can be seen on a clear day (Alt.7329 mtrs/24029 ft). On the way back visit a typical Bhutanese farmhouse. After lunch, take a leisurely stroll around the hotel compound. Visit the Rinpung Dzong. This massive fortress is located on a small hill just above the Paro river (Pachhu). You have to walk about 15 minutes by crossing an ancient wooden bridge with shingle roofing. The Dzong houses the district administration office and the District Monk Body. It was built in 1645 A.D. Lunch in the Hotel. After lunch, visit the National Museum (Tag Dzong). This was actually the Watch Tower of Paro Rinpung Dzong and was converted into the national Museum in 1965. Visit Kyichu Lhakhang (Monastery). The Monastery was built in 659 A.D by King Songtsen Gampo of Tibet as one of the 108 such monasteries he built across the Himalayas to spread Buddhism. It is located between Paro Town and Drugyal Dzong.
Day – 3 Paro – Thimphu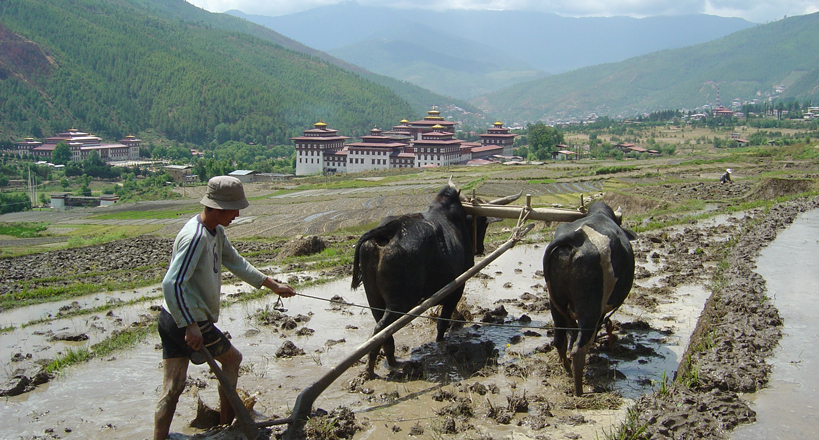 A farmer ploughs his field near the Tashichhodzong in Thimphu.
The drive to Thimphu takes about 2 hours with a distance of 65 kms. Check in at Hotel. Visit Memorial Chorten, a huge stupa built in memory of the Third King who reigned from 1952-1972.Visit the National Library where ancient manuscripts are preserved. Visit the Tashichhodzong (seen above), the seat of the Royal Government and the summer residence of the Head Abbot and the Central Monastic Body..
Day – 4 Thimphu – Sightseeing
Visit Semtokha Dzong. This is one of the oldest fortresses in Bhutan. It was built in 1629 A.D and houses the largest monastic school in the country. Visit the woodcraft and painting school where traditional art and crafts are still kept alive. Visit the Handicrafts Emporium where Bhutanese textiles and other arts are displayed and can be purchased. Evening, Stroll around Thimphu town.
Day 5: Genekha – Gur (Trek Begins)
(Distance seven km, five hours, 550 m ascent, 210 m descent, camp altitude 3,290 m).
The trek starts from beautiful Genekha village with a short descent down to the river. From here – after crossing the river – you start climbing till you reach a huge rock platform from where you have a picturesque view of the valley below. After another two hours you reach Gur, yak pastures below the main trail.
Day 6: Gur – Labatama
(Distance 12 km, six hours, 1,220 m ascent, 110 m descent, camp altitude 4,300 m).
While trekking across the ridges, one can enjoy the beauty of the rugged mountain vegetation. The path winds through flowers and wild asparagus (in spring). The meadows are refreshing and inspiring. The first pass symbolised by a huge cairn (a mound of rough stones built as a landmark) gives a spectacular view of Kanjenjunga and more or less all the Bhutanese Himalayan peaks. Descending the pass one will see the whole Dagala range, meadows and yak herders camp. Once descended into the Labatama valley you ascend gradually through the valley passing some yak herder huts till you reach Uthso Tsho ('tsho' means lake). The campsite is right next to the lake.
Day 7: Relaxation day at Labatama
This day is ideal for an excursion to any of three lakes- Reli Tsho, Hen Tsho or Jama Tsho. The day and place is also ideal for trout fishing.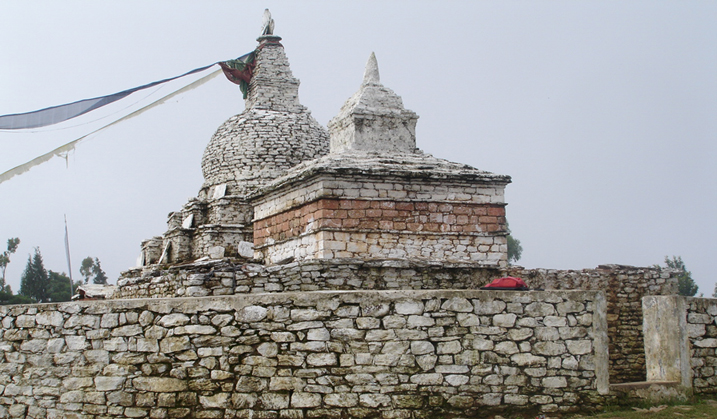 Chortens such as these are often encountered while trekking.
Day 8: Labatama – Panka
(Distance 8 km, six to seven hours, 260 m ascent, 520 m descent, camp altitude 4,000 m).
The trail climbs along the western side of Dala Tsho up to a saddle at 4,520 m from where you again have a majestic view of the Himalayan peaks during the descent. This point is around 4,460 m. The mountain peaks include Mount Everest (Nepal), Mount Kanchenjunga (Sikkim), Jhomolhari, Jichu Drakey, Tshering Gang, Khangbum, Masang Gang, Tsende Gang and Gangche Ta. If you want an even better view, you can climb a peak close to the saddle with an altitude of 4,720 m. From the saddle the path descends, passing some yak herder huts to Doccha Chhu. You follow the river for a while, but stay higher up on the slope to reach Panka with some ups and downs on the way.
Day 9: Panka-Talakha
(Distance eight km, five to six hours, 180 m ascent, 110 m descent, camp altitude 3,080 m).
This day entails the crossing of several passes, none of them affording a major climb. Search for different varieties of the National Flower of Bhutan- the Blue Poppy (June-July), and mountain birds. After crossing the last pass, Tale La (4,180 m) you start a long descent to Talakha Goemba. You will camp right besides the monastery and wake up with the early morning prayers of the monks. One has a great view of Bhutan's capital Thimphu.
Day 10: Talakha – Chamgang (Trek Ends)
(Distance six km, three hours, 440 m descent).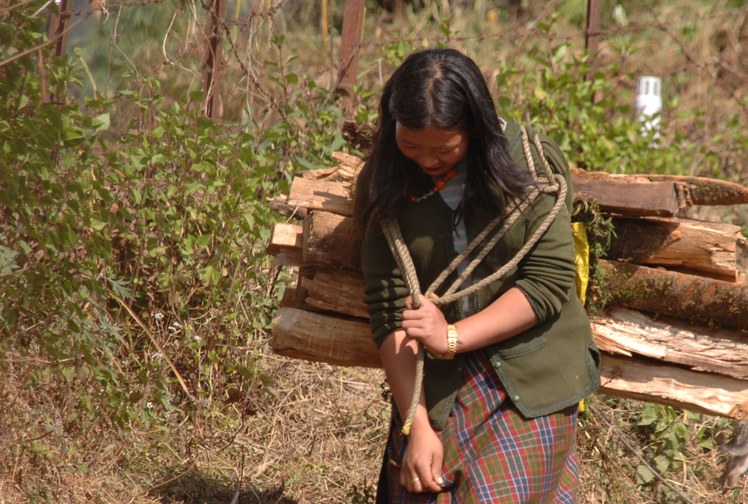 A woman carrying home wood for cooking and heat near Chamgang village...
From the Monastery it's a short walk down to the feeder road which will lead you to the village of Chamgang. Drive to nearby Thimphu to halt for the strolling around town and then halt for the night.
Day – 11: Thimphu – Paro Excursion to Taktsang Monastery.
Drive upto Satsam Chorten (10 kms from Paro town) and from there walk upto Taktsang Monastery. The name Taktsang means "Tiger's Nest". The Monastery is perched on a rocky ledge with a sheer drop of nearly 4000 ft. and overlooks the Paro valley. It is believed that in the second half of the 8th century, Guru Padmasambhava (Guru Rinpoche) meditated here after having arrived there on the back of a flying Tigress. The Monastery itself was built in 1684 A.D. Picnic lunch at the Taktsang cafeteria. The round trip hike takes about 4 hours.
Day – 12: Departure from Paro airport
Good bye from our representative at Paro Airport and hope to see you again.
---
Note: These trekking itineraries have been designed based on past experiences of visitors to Bhutan and what they experienced about various trek routes. They show the actual duration of the trek only. They can be combined with other cultural tours or treks. The treks are such that you can gain the maximum out of this experience without exhausting you. The treks may depend on seasons. However, these readymade itineraries may not be convenient for some visitors. That is why we would be very happy to, together with you, design a new itinerary to fit all criteria and interests as desired by you. Please write to us with your special interests and/or requirements at bhutanrebirth@gmail.com.
---
---