Druk Path Trek
- 10 Nights 11 Days
- Western Bhutan
---
Duration: 10 Nights 11 Days (Trek- 6 days)
High Season- March, April, May, September, October & November
Low Season- January, February, June, July, August & December
| | | | | | | | | | | | |
| --- | --- | --- | --- | --- | --- | --- | --- | --- | --- | --- | --- |
| Jan | Feb | Mar | Apr | May | Jun | July | Aug | Sept | Oct | Nov | Dec |
| | | | | | | | | | | | |
Max. Elevation: 4,200 m
Highest Camp: 4,110 m
Standard: Easy to medium
Best Seasons: March to June & September to November
Start: National Museum in Paro
Finish: Motithang (Thimphu)
---
Summary: The Druk Path Trek is one of the most popular treks in Bhutan. It is a short and scenic trek with some great views and beautiful lakes en route. Although it leads up to altitudes above 4,000 m it is not too strenuous as walking distances between the camps are not too long. Besides the lakes, it is the Phajoding monastery that is one of the highlights of this trek.
---
Itinerary Outline
Day 01: Arrive Paro
Day 02: Paro
Day 03: Paro - Jili Dzong (Trek Begins)
Day 04: Jili Dzong - Jangchulakha
Day 05: Jangchulakha - Jimilang Tsho
Day 06: Jimilang Tsho - Simkotra Tsho
Day 07: Simkotra Tsho - Phajoding
Day 08: Phajoding - Motithang (Trek Ends)
Day 09: Excursion to Punakha & Wangduephodrang
Day 10: Thimphu - Paro
Day 11: Depart Paro
---
Detailed Itinerary: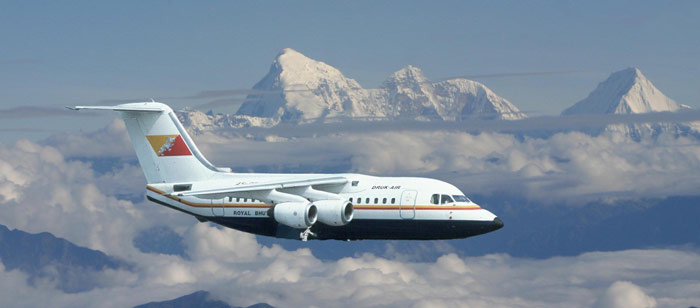 Day 01 : Arrive Paro
After crossing the Mighty Himalayas (seen above) and arrival at Paro airport, you will be met by our representative, and transferred to your Paro hotel. Acclimatisation and stroll around Paro town. Overnight at the hotel in Paro.
Day 02 : Paro Sightseeing
Drive North-West up the valley to Drugyal Dzong built in 1646 by Shabdrung Ngawang Namgyal to commemorate his victory over the Tibetan invaders. Though largely destroyed by fire in 1951, its towering walls are still an imposing sight. On a clear day there is a splendid view of Mt. Jhomolhari from the approach road to Drugyal Dzong. Visit one of the typical village houses clustered near the Dzong. Then visit Kyichu Lhakhang, one of the oldest and most sacred shrines of Bhutan. In the afternoon visit Tag Dzong, once a fortified lookout tower and now the National Museum. Then walk down the hillside trail to visit Rinpung Dzong (Paro Dzong), 'the Fortress of the Heap of Jewels'. Overnight at the Hotel in Paro.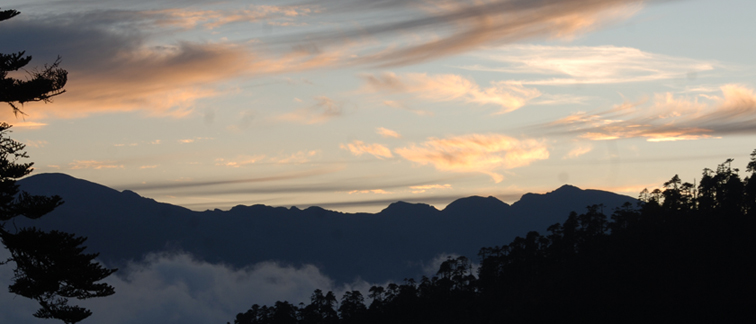 .... as twilight approaches.... on the trail...
Day 3: Paro - Jili Dzong (Trek Begins)
(Distance seven km, four to five hours, 1,090 m ascent, camp altitude 3,480 m).
The first day is a long day as you have to climb more than 1,000 m elevation. You start from the Tag Dzong (National Museum) in Paro. The trek follows a gravel road past a few farms for about 30 minutes and then climbs up a steep ridge before leading through blue pine and fir forests to Damche Gom. Once you reach the ridge below Jili Dzong you descend about 100 m to the campsite below Jili Dzong.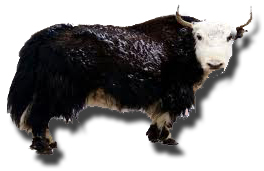 Day 4: Jili Dzong - Jangchulakha
(Distance 10 km, four to five hours, 310 m ascent, 50 m descent, camp altitude 3,770 m).
You begin with a climb for about an hour and a half and then ascend gradually up. The trail takes you through thick alpine forest and dwarf rhododendron tress. You may see yaks (left) and yak herders around your campsite.



Day 5: Jangchulakha - Jimilang Tsho
(Distance 11 km, four hours, 230 m descent, 330 m ascent, camp altitude - 3,870 m).
The trail follows the ridge and on a clear day the view of the mountains and valley are beautiful. The campsite is close to the Jimilang Tsho Lake. The lake is known for its giant sized trouts.
Day 6: Jimilang Tsho - Simkotra Tsho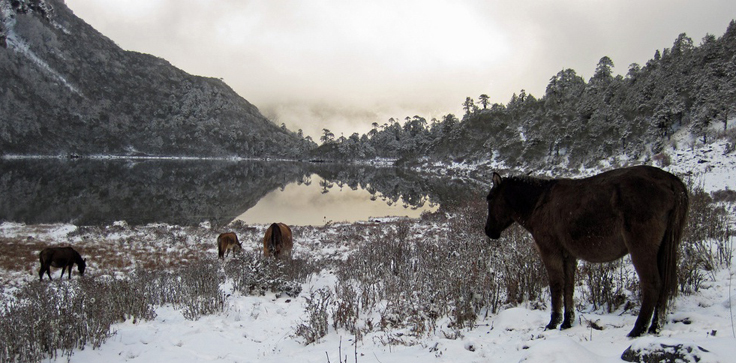 Jimilang Tsho means 'Sand Ox Lake'. It was named after a bull that emerged from the lake and joined the cattle of a family that used the area as a grazing ground during the summer. This lake has a pleasant camping place at its end hence is used by the trekkers of Druk Path Trek for the camp.
(Distance 11 km, four hours, 820 m ascent, 400 m descent, camp altitude 4,110 m).
The trail takes you through dwarf rhododendron trees and Janetso Lake. You may come across some yak herder's camps where you will have the opportunity to get a glimpse of a nomad's life. The campsite is close to Simkotra Tsho Lake.

Day 7: Simkotra Tsho - Phajoding
(Distance 10 km, three to four hours, 130 m ascent, 680 m descent, camp altitude 3,750 m).
The trek begins with a gradual climb. If weather permits, you will have a spectacular view of Mount Gangkhar Puensum, the highest mountain in Bhutan and other Himalayan peaks. Gangkhar Puensum is the highest mountain in Bhutan and a strong candidate for the highest unclimbed mountain in the world with an elevation of 7,570 metres (24,836 ft). From this pass, the trek takes you downhill to Phajoding for a nights halt. The camp is above Phajoding.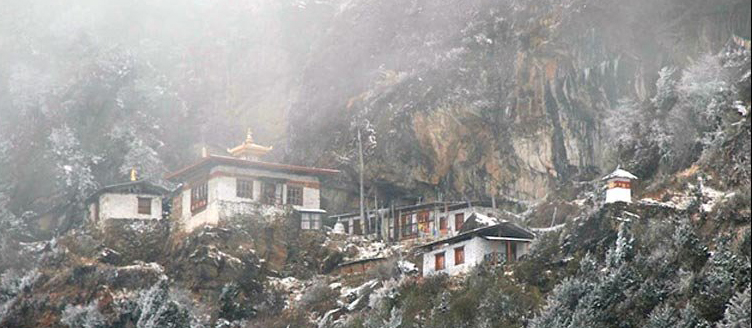 Phajoding Goemba (monastery) is at an altitude of 3650 m and lies in Western Bhutan. Phajoding is a large monastic complex with 10 lhakhangs and 15 monastic residences. It was founded in the 13th century by Togden Pajo, a Yogi from Tibet, who was searching for a place to meditate. The Druk Path trekkers use Phajoding Goemba as a camping place.

Day 8: Phajoding - Motithang
(Distance four to five km, three hours, 1,130 m descent).
After passing Phadjoding monastery, the trek to Thimphu (Motithang) is all the way downhill through a forested area of mostly blue pine. The walk, at a leisurely pace, takes about three hours.
Day 09: Excursion to Punakha & Wangduephodrang
After breakfast, full day excursion to the Punakha and Wangdue valleys. The drive from Thimphu crosses Dochula pass (3,088 m) from which there are the most enchanting mountain views. In Punakha, visit Punakha Dzong situated at the junction of the Pho Chhu and Mo Chhu rivers. Built in the 17th century by Shabdrung Ngawang Namgyal, this Dzong has played an important role in Bhutan's history. Then drive to Wangduephodrang, to visit the ruins of the 17th century Wangduephodrang Dzong razed by fire in 2012, and the local market. In the evening drive back to Thimphu. Overnight at the Hotel in Thimphu.
Day 10: Thimphu - Paro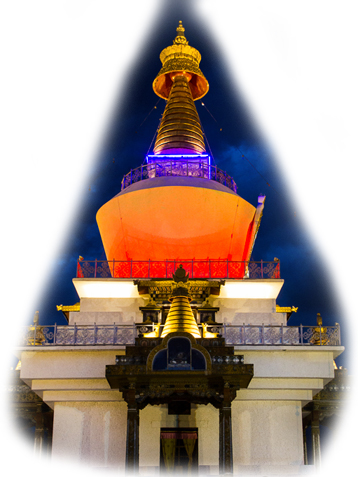 Full day of sightseeing in Thimphu, including visits to the following, as time permits: National Memorial Chorten (see left, at night)- built as a Memorial to Bhutan's Third King ('the Father of Modern Bhutan') and as a Monument to World Peace; Tashichhodzong - the impressive fortress/monastery housing some Ministries, His Majesty's Secretariat, and the Central Monk Body; Handicrafts Emporium - a wide assortment of intricately hand-woven textiles and other craft products is available for purchase at this government-run outlet, and at many smaller handicrafts shops around town; the National Library - established in the late 1960s primarily to conserve the literary treasures which form a significant part of Bhutan's cultural heritage, it now holds an extensive collection of Buddhist texts and manuscripts; the Institute for Zorig Chusum - more commonly known as the Painting School, where students learn the 13 traditional arts and crafts of Bhutan; the National Institute of Traditional Medicine (outside only)- the rich herbal medicines made up from plants abundant in the Kingdom are dispensed here, and traditional medicine practitioners trained. In the evening drive to Paro. Overnight at the Hotel in Paro.
Day 11: Depart Paro
After early breakfast in the hotel, drive to the airport for flight to onward destination and it's Goodbye for now....
---
Note: These trekking itineraries have been designed based on past experiences of visitors to Bhutan and what they experienced about various trek routes. They show the actual duration of the trek only. They can be combined with other cultural tours or treks. The treks are such that you can gain the maximum out of this experience without exhausting you. The treks may depend on seasons. However, these readymade itineraries may not be convenient for some visitors. That is why we would be very happy to, together with you, design a new itinerary to fit all criteria and interests as desired by you. Please write to us with your special interests and/or requirements at bhutanrebirth@gmail.com.
---
---
---

---