Jhomolhari Trek I (Snow Leopard Trek)
- 13 Nights 14 Days
- Central & Eastern Bhutan
---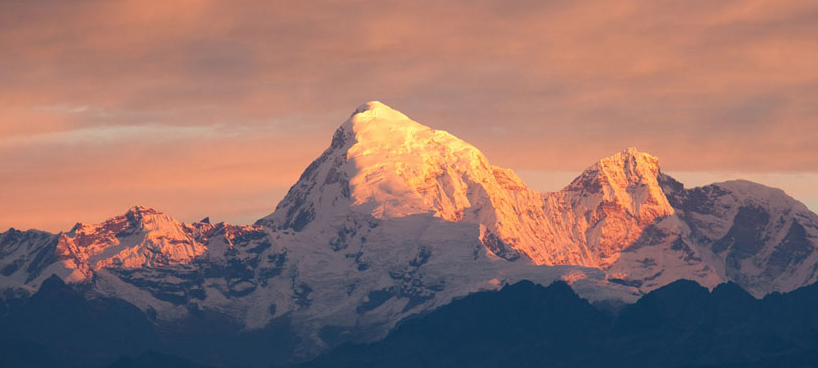 Mt. Jhomolhari greeting the morning sun...
---
Duration: 13 Nights 14 days (Trek- 9 days)
High Season- March, April, May, September, October & November
Low Season- January, February, June, July, August & December
| | | | | | | | | | | | |
| --- | --- | --- | --- | --- | --- | --- | --- | --- | --- | --- | --- |
| Jan | Feb | Mar | Apr | May | Jun | July | Aug | Sept | Oct | Nov | Dec |
| | | | | | | | | | | | |
Max. Elevation: 4,930 metres above sea level
Highest Camp: 4,080 metres above sea level
Standard: Medium
Best Seasons: March to June & October to November
Start: Drugyal Dzong (Paro)
Finish: Dodena (Thimphu)
---
Jhomolhari Trek I Trip Overview:
Jhomolhari Trek I is the longer one of the two Jhomolhari routes- and the most popular trek in Bhutan. With altitude differences of 2,500 m and nearly 5,000 m on the same trek (lowest and highest points on the route), it offers a wide range of landscape, fauna and flora. The Highlight of this Trek is the spectacular view of Mount Jhomolhari from the Jhomolhari Base camp at Jangothang. Nearly the whole trek goes through a small part of the Jigme Singye National Park, passing a few of the Yakherders' settlements and the remotest region of Lingshi. One should be reasonably physically fit to enjoy the majestic mountain views, endure thin air, serenity & the wilderness of the landscape while on the trek. Trekkers who want to avoid high passes and high altitudes can chose the easier version (
Jhomolhari Trek II)
by going back the same way down from Jangothang (see days 1-3), while still having the majestic impressions of Mount Jomolhari.
---
Itinerary Outline:
Day 01: Arrive Paro- visit Paro Dzong
Day 02: Day hike to Tiger's Nest Monastery (Paro)
Day 03: Start of Jomolhari Trek, Paro to Shana (9.3 miles / 15 km)
Day 04: Shana to Soi Thangthangka (13.6 miles / 22 km)
Day 05: Soi Thangthangka to Jangothang (10.5 miles / 11 km)
Day 06: Jangothang (Halt), side trip to Tshophu Twin Lake, visit yak herders
Day 07: Jangothang to Lingshi (13 miles / 21 km)
Day 08: Lingshi to Shodu (13.6 miles / 22 km)
Day 09: Shodu to Barshong (8.7 miles / 14 km)
Day 10: Barshong to Dolam Kencho (9.3 miles / 15 km)
Day 11: Dolam Kencho to Dodena (4.3 miles / 7 km, Trek ends) to Thimphu
Day 12: Thimphu to Punakha, Thimphu sights, visit Punakha Dzong
Day 13: Punakha to Paro, Temple of Divine Madman, farewell dinner
Day 14: Depart Paro to Bangkok
---
Detailed Itinerary:
Day 1: Arrive Paro- visit Paro Dzong
Upon being received at the airport by our representative, check into Hotel. Later, we visit Tag Dzong, built in the 17th century as a watch tower for Paro Rinpung Dzong. This Dzong was later converted into the National Museum in 1967 and is filled with antique thangkhas (Buddhist paintings on cloth), textiles, antique weapons and armour. Also visit the Rinpung Dzong, also built in the 17th century to defend the valley against Tibetan invaders. It is now used as an administrative centre and home for the monastic community. Stroll around town. Overnight at Hotel.
Day 2: Day hike to Tiger's Nest Monastery
In the morning, you will visit the Drugyal Dzong (Bhutan Victory Fort) which was built in 1646 to commemorate Bhutan's victory over the Tibetans in the 1600s. On a clear day you can see the captivating view of Mount Jhomolhari, Bhutan's second-highest mountain at 7,314 metres. Then you will hike to Taktsang (the Tiger's Nest) Monastery, which is Bhutan's most famous monastery. It is perched precariously on the edge of a steep cliff 900 metres above the Paro Valley floor. Visit the Monastery and hike back to Paro. In the evening visit a traditional farmhouse which offers opportunity to mingle with local people and their lifestyle. If you wish, you can have a traditional Bhutanese dinner with buttermilk, called 'dao' in Dzongkha. Overnight at your Hotel in Paro.
Day 3: Drugyal Dzong - Sharna Zampa (Trek Begins)
(Distance 17 km, four to five hours, 360 m ascent, 80 m descent, camp altitude 2,850 m)
Drive up to Drugyal Dzong (2,580 m) where the road ends and the trek begins. With a gradual climb the trail follows the Paro Chhu passing beautiful meadows, paddy fields and impressive farm houses. After about four hours you will reach the Bhutan army's post at Gunitsawa village. At the army checkpost your trek permit (provided by us) will be checked and endorsed. The campsite is on the opposite side of the river, not far from Gunitsawa.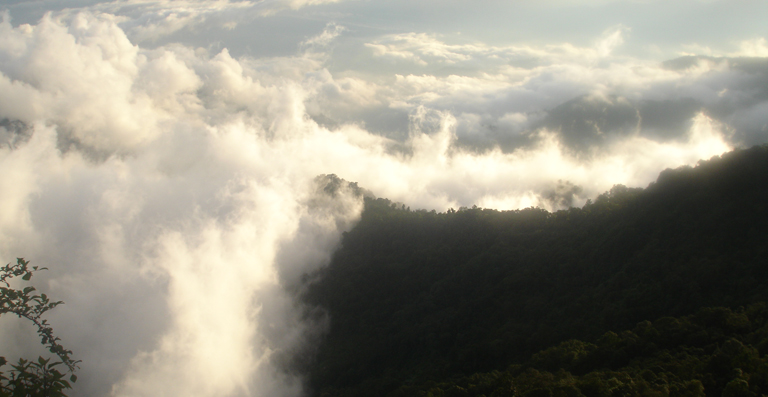 ...A Walk in the Clouds...
Day 4: Sharna Zampa - Thangthangkha
(Distance 22 km, seven to eight hours, 770 m ascent, 10 m descent, camp altitude 3,610 m)
On this long day, the trail continues with lots of small ups and downs. After going uphill through the river valley, you enter the Jigme Dorji National Park. The valley finally narrows gradually to a mere path which descends to a meadow where a camp will be set up. From here, if weather permits, you will have the first great view of Mount Jhomolhari.
Day 5: Thangthangkha - Jangothang
(Distance 19 km, five to six hours, 480 m ascent, camp altitude 4,080 m)
If you did not see Mount Jhomolhari last evening, you will have a great chance to get a great view this early morning. This morning the trek continues up the Paro Chhu River Valley which widens into patches of alpine meadow and scanty growths of forests. Cross an army outpost along the way and enjoy a spectacular view of high mountain ridges and snow-capped peaks. Yaks and the herders' homes become a regular feature of the landscape. Passing the villages of Soe, Takethang and Dangochang is another feature on this day. Reaching Jangothang, one of the most beautiful campsites of the Himalayas, you will again have a spectacular view of Mount Jhomolhari.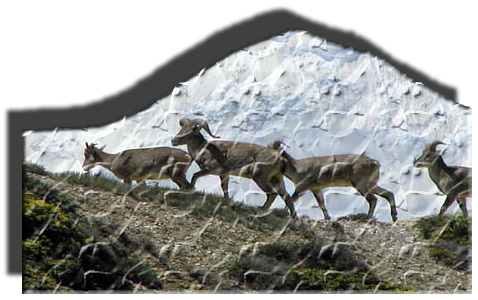 Day 6: Jangothang Halt.
The day in Jangothang provides plenty of possibilities for day hikes with great views of lakes and snow-capped mountains such as Jhomolhari and Jichu Drakey. There are good chances to spot some endangered Blue Sheep (right) on the upper slopes of the valley. Jangothang is a perfect environment for your acclimatisation. Trek up to Tosoh or hike around the area. There are good short hiking trails in three directions. Jhomolhari and its subsidiary mountain chains lie directly West, Jichu Drakey to the North and a number of unclimbed peaks to the East.
Day 7: Jangothang - Lingshi
(Distance 18 km, six to seven hours, 840 m ascent, 870 m descent, camp altitude 4,010 m)
After 15 minutes from the camp the trail climbs rapidly for about half an hour and then becomes a gradual ascend to the Nyilila Pass at 4,870 m. While on the climb enjoy the surroundings. You might see herds of blue sheep grazing on the slopes of the mountains. From the pass you will have spectacular views of Mt. Jhomolhari, Jichu Drakey and Tsherimgang, all of them rising above 7,000 masl. On the way down to the camp you will pass by some of the yak herders' tent, made from yak wool, where the herders take shelter while on the move to various pastures for their yaks. As you come down into the Lingshi basin, you get a wonderful view of Lingshi Dzong on a clear day. Tserimgang and its glaciers rise up at the north end of the valley. The campsite is next to a stone hut you reach just before Lingshi Dzong.
Day 8: Lingshi - Shodu
(Distance 22 km, eight to nine hours, 940 m ascent, 920 m descent, camp altitude 4,080 m)
The trail climbs up to the Yelila pass at an altitude of 4,930 m. From the pass on a clear day you will get an excellent view of Jhomolhari, Tserimgang and Masangang. From the pass to the campsite at Shodu is a steep downhill trek.
Day 9: Shodu - Barshong
(Distance 16 km, five to six hours, 250 m ascent, 670 m descent, camp altitude 3,710 m)
The trail follows the Thimphu Chhu through rhododendron forests and past beautiful waterfalls. The valley narrows till the path takes to the slopes and gradually ascends to the ruins of Barshong Dzong.
Day 10: Barshong - Dolam Kencho
(Distance 15 km, four to six hours, 290 m ascent, 640 m descent, camp altitude 3,320 m)
The trail descends down to the Thimphu Chhu river valley, through dense forests of rhododendron, birch, conifer, maples and bamboos and then ascends to pasture lands. The camp is in a meadow.
Day 11: Dolam Kencho - Dodena to Thimphu (Trek Ends)
(Distance 8 km, three to four hours, 500 m ascent, 930 m descent)
The trail continues through forested areas winding up and down and through a small pass. Langurs (monkeys) can be seen along the way. In Dodena, you will exit the Jigme Dorji National Park and reach the road head next to a impressive cantilever bridge.
Day 12: Thimphu to Punakha, Thimphu sights, visit Punakha Dzong
Morning sightseeing in Thimphu, we visit the Third King's Memorial Stupa built in 1974, visit the Folk heritage Museum founded by Her Majesty the Queen Mother, Ashi Dorji Wangmo Wangchuck. The museum is one of a kind that portrays the lifestyle of a genteel family in the Thimphu valley in the olden days. Head out of town on a spectacular 3 hours drive to Punakha crossing the Dochula Pass at 3100 metres from where you can see the 108 beautiful Chortens built by Her Majesty the Queen Mother, Ashi Dorji Wangmo Wangchuck. From this pass, on a clear day, you can have a superb view of the highest peaks in Bhutan. After a hot lunch at the cafe atop the pass and time to savour the mountain views, we continue our drive to Punakha Valley and visit the beautiful Punakha Dzong (as seen on the welcome page of this site) on the confluence of the Phochhu and Mochhu (male and female rivers) rivers. Overnight at Hotel.
About Punakha: Punakha is located in a low sub-tropical valley about 4100 feet and was the capital of Bhutan until 1955. It is still the winter home of the Chief Abbot, the Je Khenpo, today. The warmer climate in Punakha allows for the production of two rice crops each year, along with oranges, mangos, and bananas. In Punakha, we may see people from the remote village of Laya. The Layaps, as they are known, are yak herders who make the three or four-day walk to Punakha from their high-altitude villages in northwest Bhutan. Women of Laya wear conical bamboo hats with a centre spike of bamboo, and Laya's men wear black woolen coats.
Day 13: Punakha to Paro, on way Temple of Divine Madman, Farewell Dinner
Morning drive to Paro via Dochula. Before we reach Dochula we pause to take a half-hour walk through mustard fields which brings us to Chimi Lhakhang ('Lhakhang' means temple), a monastery and fertility temple dedicated to Lama Drukpa Kuenley, a Tibetan Buddhist Saint known popularly as 'the Divine Madman' and considered a folk hero in Bhutan for his unconventional ways. Drukpa Kuenley originally built a Chorten on the site in the 14th century. The temple, flanked by nearly 100 tall prayer flags, sits atop a picturesque hill and has long been a pilgrimage site for childless couples. After a hot cup of coffee at a café near the Pass, we continue our drive to Paro. Kyichu Lhakhang, the oldest Monastery of the Kingdom is another place of interest. Overnight at Hotel.
Day 14: Depart Paro
We now have to bid you Good Bye, Farewell and hope to see you again soon.
---
Note: These trekking itineraries have been designed based on past experiences of visitors to Bhutan and what they experienced about various trek routes. They show the actual duration of the trek only. They can be combined with other cultural tours or treks. The treks are such that you can gain the maximum out of this experience without exhausting you. The treks may depend on seasons. However, these readymade itineraries may not be convenient for some visitors. That is why we would be very happy to, together with you, design a new itinerary to fit all criteria and interests as desired by you. Please write to us with your special interests and/or requirements at bhutanrebirth@gmail.com
---
---