Nabji-Korphu Community-Based Nature Tourism Trek
- 12 Nights 13 Days
- Western & Central Bhutan
---
Duration: 12 Nights 13 Days (Trek- 6 days)
High Season- March, April, May, September, October & November
Low Season- January, February, June, July, August & December
| | | | | | | | | | | | |
| --- | --- | --- | --- | --- | --- | --- | --- | --- | --- | --- | --- |
| Jan | Feb | Mar | Apr | May | Jun | July | Aug | Sept | Oct | Nov | Dec |
| | | | | | | | | | | | |
Max. Elevation: 1,500 m
Highest Camp: 1,500 m
Standard: Easy
Best Seasons: October - April
Start: Tongtongphey (Trongsa)
Finish: Reotala (Trongsa)
---
Nabji Korphu Trail
The Nabji Trail is an ideal post-harvest/winter trekking set out in the Jigme Singye Wangchuck National Park, a park with an ecologically rich environment. The park, located in Central Bhutan, is also home to several culturally rich agricultural villages. The trail is a six-day low-altitude trek (between 693 m/23100 ft and 1,636 m/5453 ft) through six different villages located inside the park. Starting point is Tongtongphey (Altitude range- 1,000 m - 1,350 m) and final destination Nimshong village (Altitude range - 1,300 m - 1,000 m). Both are two small villages along the Trongsa-Zhemgang road, situated in the buffer area of the park at the east side of the Mangde Chhu (river).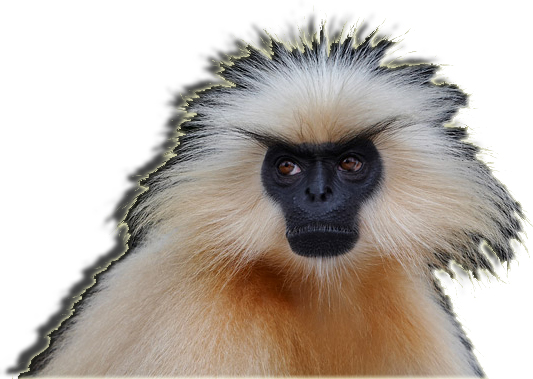 On this trek, you will possibly see the Golden Langur (at right- Trachypithecus geei), one of the rarest primates, which can only be found in Bhutan and neighbouring Assam. Jigme Singye Wangchuck National Park is also home to the endangered Rufous-necked Hornbill (Aceros nepalensis). More so, the trail is a superb place for birding- common mynas, blue-fronted redstarts, long-tailed shrikes and Eurasian sparrows, to name just a few of the common species, but among those also spotted are the serpent eagle, golden-throated barbet, and the yellow-bellied flowerpecker- and has a wide variety of plants and flowers found in this Himalayan area (from Chir Pine, broad-leaved trees and Bamboo, to Rhododendrons and Wild Orchids).
Besides its natural beauty, the area also contains cultural history, witnessed among others by the presence of a Commemorative Pillar in the Temple of Nabji. The pillar symbolises the occasion when peace was negotiated between two Kings (King Nauche from India and King Sindu from Bhutan) intermediated by Guru Rinpoche in the eight century. Along the six-day trail more traces of Guru Rinpoche's presence during those days can be found.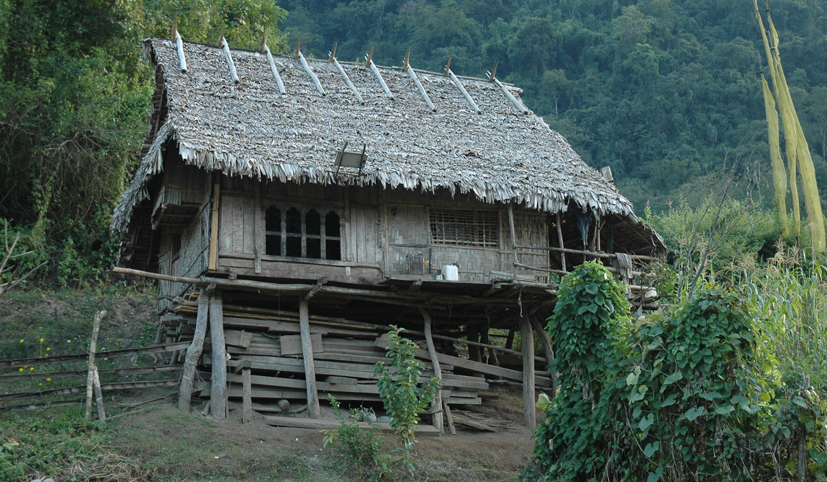 A hut of a villager along the trek...
The last two days of the trek will go through the homeland of the Monpa people. The small traditional villages of the Monpa community are scattered on the slope overlooking Mangde Chhu. The Monpas are thought to be the first settlers in Bhutan, the Mangde Chhu valley representing one of the earliest areas of settlement in Bhutan. The Monpas then practiced a mix of animistic shamanism and Buddhism. Monpa refers to "the people of darkness" referring to their isolated position in the past. In general terms, 'Mon' refers to people without religion that symbolises the period before the advent of Buddhism in Bhutan. They were originally hunters and food gatherers and their culture, tradition and practices are intrinsically linked to the forest around them. They are traditionally cane weavers and bamboo crafters, using their skills for house construction, making baskets and other household items.
---
Itinerary Outline:
Day 01: Arrive Paro
Day 02: Paro – Thimphu
Day 03: Thimphu – Trongsa
Day 04: Tongtongphey - Jangbi village (Trek Starts)
Day 05: Jangbi village- Kudra village
Day 06: Kudra village- Nabji village
Day 07: Nabji village - Korphu village
Day 08: Korphu village - Nimshong village
Day 09: Nimshong village - Trongsa town (Trek Ends)
Day 10: Trongsa – Gangtey – Punakha
Day 11: Punakha – Paro
Day 12: Paro sightseeing
Day 13: Departure
---
Detailed Itinerary:
Day 01: Arrive Paro
(Altitude 2280 m)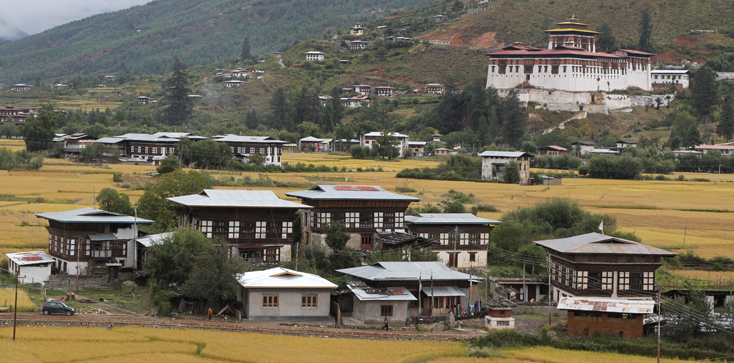 Houses in Paro with Rinpung Dzong looming in the background.
On arrival at the Paro International Airport and after completing immigration and custom formalities, you will be received by your tour guide from Bhutan Rebirth and escorted to your Hotel. After lunch/brief refreshment, visit the Tag Dzong (National Museum) located on a hill overlooking the valley. The building was originally built as a watchtower for the Rinpung Dzong. It now houses a fine collection of national costumes and fabrics, an extensive gallery of thangkas, impressive stamp gallery and the other galleries showcasing armor and silverware. Visit the Rinpung Dzong which houses the office of the District Governor and District Monastic Body. Walk down the stone path and through the traditional wooden bridge, which is one of the fine specimens of Bhutanese architecture. Overnight at Hotel.
Day 02: Paro – Thimphu
(Altitude 2350 m, Distance: 55 km & 1 hour drive)
On arrival at Thimphu, after check in to your Hotel, visit Mothithang Mini Zoo to see the National Animal of Bhutan, the Takin. Also visit the Drupthop Lhakhang (the nunnery). After lunch, we will see the Painting school, Folk Heritage Museum, the National Library, Bhutan Postal Office and Handicrafts Emporium and stroll around Thimphu town before dinner. Overnight at Hotel.
Day 03: Thimphu – Trongsa
(Altitude 2200 m, Distance: 199 km & 7 hours drive)
After breakfast, drive to Trongsa via the Dochula Pass (3150 m). The mountain pass is marked by hundreds of rippling prayer flags, and 108 Namgyel Khangzang Chortens. On clear days the pass offers the most spectacular view over the high peaks of the Eastern Himalayas. From here drive is all the way down through magnolia and rhododendron forests to the tropical valley of Wangduephodrang (1350 m) and then continue drive to Trongsa en route crossing Pelela Pass (3300 m). The region has different species of rhododendron depending on the flower season- Spring– April to May). There is also an abrupt change in vegetation at this point, with mountain forests replaced by high altitude dwarf bamboos. Stop at Chendebji Choten (a Nepalese-styled Stupa) for lunch/pack lunch. After lunch continue your journey to Trongsa. Overnight at Hotel.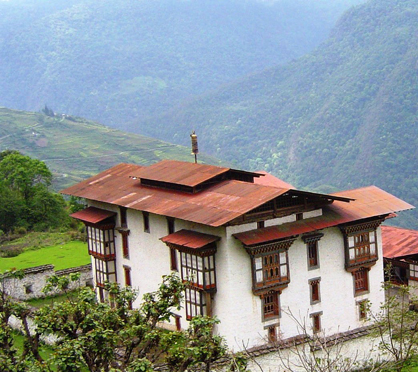 Day 04: Tongtongphey - Jangbi village (Trek Starts)
(Altitude range 1,000 m - 1,350 m, Distance: 7-9.5 km, 3-4 hours)
After an early breakfast at your hotel, you could afford some time to strut around Trongsa town, combining it with a visit to the Dzong and also Trongsa's Tag Dzong. The latter is going to be upgraded into a museum which will definitely captivate the visitor with its myriad collections. A two hour drive from the town along the Zhemgang highway brings you to the start of the Trek, Tongtongphey. You could also augment your itinerary along the way with a visit to Kuenga Rabten Palace (see right), an important heritage in Bhutanese history. After furnishing yourself with ample information about the trek from the information booth, your guide will steer you down to the Mangdue river where you cross a suspension bridge. Unless you have a strong proclivity for ants and other ground creatures, it is almost impossible to miss out on Golden Langurs that are bountiful on this stretch. The first day brings you in contact with the Monpas who are believed to be the first inhabitants of Bhutan. A glimpse on their lifestyle further validates their ethnicity, coupled by mythical legends about their origins. The campsite in Jangbi stands on the valley sill, which offers a resplendent view of the Mangdi valley. If you still have some energy for locomotion, you could audience yourself to a local cultural program, or better, partake in it.
Day 05: Jangbi village- Kudra village
(Altitude range - 1,350 m - 1,500 m, Distance: 13-14.5 km, around 6 hours)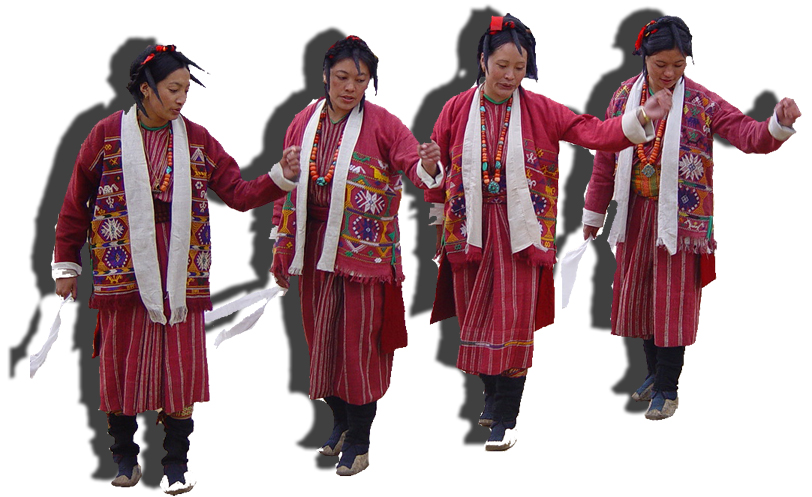 The morning allows you to further interact with the Monpas (women dancing above). Before you proceed, you could also pay a visit to the orchid garden that fences about 75 different kinds of orchids till your thirst for botanical photography gets satiated. The hike to Kudra provides a nuance of jovial atmosphere because this part of the trail meanders along stone imprints of Guru Rinpoche, footprints, dagger and phallus, festooned by stories that espouse Gurus practices. Lunch is served just before you arrive at Phrumzur, one of the villages of the Monpa communities off the trail. You could also visit the village Lhakhang in Phrumzur and then proceed to the campsite in Kudra. En route, you traverse another small Monpa village called Lekpogang, after which, the campsite in Kudra is just an hour's walk. The campsite offers a birds-eye-view of Nyimshong village and also the Zhemgang town.
Day 06: Kudra village- Nabji village
(Altitude range - 1,500 m - 1,300 m, Distance: 11-14 km, about 5-7 hours)
You wake up with the distant call of the Rufous-necked hornbill. This part of the trek is a collage of streams, waterfalls and thick forests that will give you an invigorating feeling of being out in the wild. The Great Himalayan Squirrel, Rhesus Mecaques and small snakes are often spotted along the trail. Unseen but present, are the Himalayan Black Bear, Red Pandas, Royal Bengal Tigers, Clouded Leopards etcetera. Upon arrival at the Holy Tree in Nabji, the people will give you a heartwarming reception. Nabji is a beautiful village where paddy fields seem to circumambulate the clustered houses. You could also hike to the community school and indulge yourself in a game of football or volleyball, where children rejoice the presence of outsider athletes.
Day 07: Nabji village - Korphu village
(Altitude range – 1300 m – 1500 m, Distance: 9.5-13 km, 2-3 hours)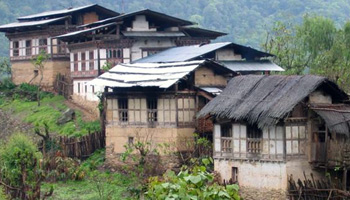 (Left houses in Nabji). En route to Korphu, the Nabji temple is located in the middle of the paddy fields. Inside there remains a stone pillar on which Guru Rinpoche while traveling through Bhutan in the 8th century brought consensus between the warring kings: King Sindha Gyelp of Bumthang, and King Noeche, by imprinting their thumbs on each side of the stone. A unique festival is celebrated sometime in early January at the temple grounds. Korphu is situated on a mountaintop at an altitude of 1,500 m. The most striking thing about Korphu is that the people exemplify hospitality to the utmost. You have the option of being welcomed with a traditional Chipdrel procession and a Marchang ceremony, singing traditional songs of praise and wellbeing for new visitors. They also perform the traditional Tashi Lebey dance to bid you farewell. If you are interested, the villagers can explain and demonstrate and even allow you to participate in the quintessential Bhutanese games of Khuru (long distance darts), Dego (Darts game using stone), Soksum (javelin), and Pundo (akin to Shot Putt), all on the brink of disappearance. You could also pay a visit to the village temple that houses the sacred relics of Pema Lingpa, the famous Treasure Revealer of Bhutan. A local lunch could be provided in the village campsite which also provides a spectacular birds-eye view of Nabji and other surrounding areas.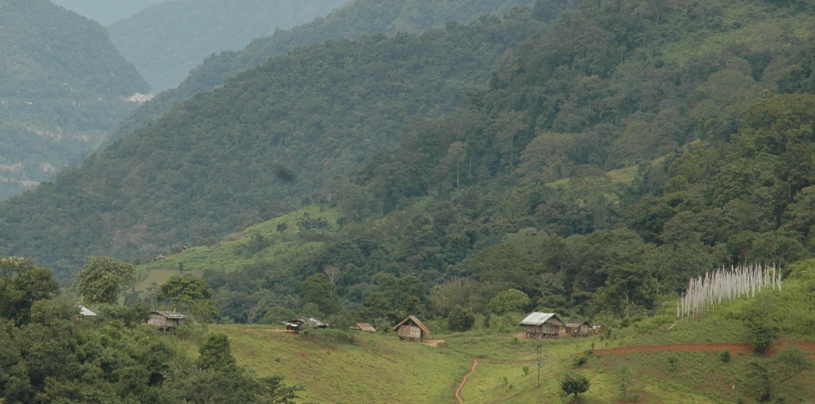 A village along the route...
Day 08: Korphu village - Nimshong village
(Altitude range- 1,500 m - 1,300 m, Distance: 11-12 km, roughly 4-6 hours)
The hike from Korphu to Nyimshong is the pleasant and arguably the best birding spot which can boast a bird list of more than 395 species. The elusive Rufous Necked Hornbill has its nesting holes adjacent to the trail. The walk is mixed with waterfalls and, streams and cantilever bridges. The evening brings you to Nyimshong, a village with its reticent architecture and lifestyle. The campsite is equipped with an amphitheatre. The women of Nyimshong have a penchant for singing and dancing and a cultural show would be ideal to express certain euphoria to end your trek. Of course this is optional.
Day 09: Nimshong village - Trongsa town (Trek Ends)
(Altitude range - 1,300 m - 1,000 m, Distance: 5-6 km, about 2 hours)
If you are lucky, the Golden Langurs will lead you to the exit. You descend down to the Mangdi river again to see some Herons and River-lapwings. An hour's steep ascent to the road and your driver will take you back to Trongsa.
Day 10: Trongsa – Gangtey – Punakha
(185 km & 6 hours drive)
After breakfast drive to Punakha en-route visit Gangtey to explore Phobjikha valley, chosen winter home of black necked cranes, migrating from the Tibetan Plateau. After lunch, continue your drive to Punakha.
Overnight at Hotel.
Day 11: Punakha – Paro
(Altitude range- 122 km & 3 hrs 30 min drive)
After breakfast drive to Paro via Dochula. A half-hour walk through mustard fields brings us to Chimi Lhakhang ('Lhakhang' means temple), a monastery and fertility temple dedicated to Lama Drukpa Kuenley, a Tibetan Buddhist Saint known popularly as 'the Divine Madman' and considered a folk hero in Bhutan for his unconventional ways. Drukpa Kuenley originally built a Chorten on the site in the 14th century. The temple, flanked by nearly 100 tall prayer flags, sits atop a picturesque hill and has long been a pilgrimage site for childless couples. After a hot cup of coffee at a café near the Pass, we continue our drive to Paro. Evening we will stroll around Paro Town to do last shopping for authentic souvenirs and gifts from Bhutan. Dinner and Overnight Stay at Paro Hotel.
Day 12: Paro sightseeing
Morning, drive to Drugyal Dzong, which is 16 km away from the town. The Dzong though in ruins played a very important role in defending the valley from Tibetan Invasion and it was built to commemorate the victory over the Tibetan forces. Drive back to Ramthangka to hike up to the view point of Taktsang (Tiger's Nest- 2950 m). The round trip will take about three hours. After a brief refreshment at Taktsang cafeteria, you can take a walk little higher to have a closer view point of Taktsang monastery. Legend says that in the 8th century, Guru Rinpoche who is regarded as the second Buddha meditated here. The place now is one of the holiest pilgrim sites for Mahayana Buddhists (as compared to Hinayana Buddhists of Thailand and Sri Lanka- who take the Buddha as a Teacher and not God). After lunch, retreat back to hotel. On the way, visit the 7th century Kyichu temple, the oldest monastery of the Kingdom, built by the Tibetan King Songtsen Gambo. In the evening explore the Paro village town. Overnight at Hotel.
Day 13: Depart Paro
Early breakfast and drive to the airport for your departure. Farewell and hope to see you again...
---
Note: These trekking itineraries have been designed based on past experiences of visitors to Bhutan and what they experienced about various trek routes. They show the actual duration of the trek only. They can be combined with other cultural tours or treks. The treks are such that you can gain the maximum out of this experience without exhausting you. The treks may depend on seasons. However, these readymade itineraries may not be convenient for some visitors. That is why we would be very happy to, together with you, design a new itinerary to fit all criteria and interests as desired by you. Please write to us with your special interests and/or requirements at bhutanrebirth@gmail.com.
---
---