Religion in Bhutan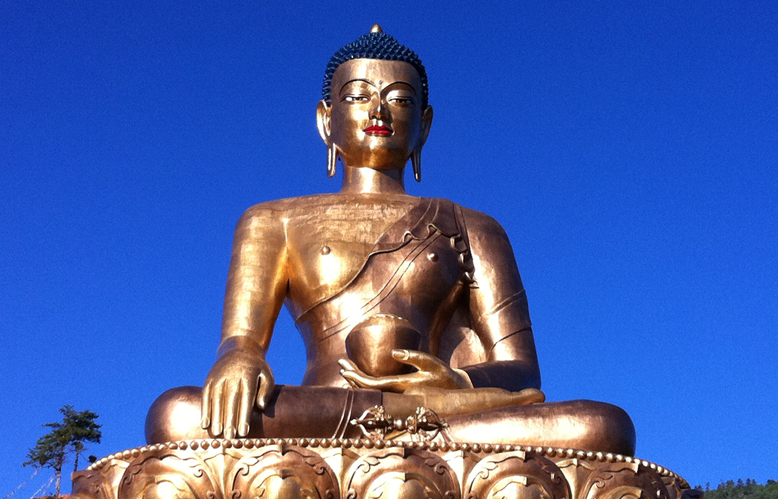 Lord Buddha's statue at Kuenselphodrang Nature Park which towers over Thimphu town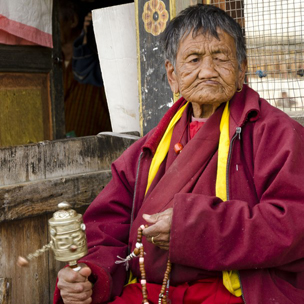 Bhutan Buddhism
Buddhism is practiced widely throughout the country and permeates all aspects of life. In the south of Bhutan, Hinduism is practised mostly by Lhotsampas. The Buddhism practised is tantric Mahayana Buddhism- the Drukpa Kargyu sect which is similar to Tibetan Buddhism, yet with different beliefs and practices. In the east mostly the Nyingmapa sect is practiced. Guru Rinpoche brought Buddhism to Bhutan in the 8th century and thereafter Bhutan became home to many sages and saints. Some of the key figures of Bhutanese Buddhism are Kuenkhen Longchen Ramjam, Phojo Drukgom Zhigpo, Drukpa Kuenley, Zhabdrung Ngawang Namgyel and Gyalse Tenzin Rabgye.
Festivals of Bhutan
Tsechu ('tse' meaning holy and 'chu' meaning the tenth) is an annual religious festival that is celebrated on the 10th day of the Bhutanese Lunar calendar. The festival commemorates the birth of Guru Rinpoche who, legend has it, was born of a lotus flower and came to Bhutan in 746 AD, bringing Buddhism to the country. Tsechus are the biggest festival in the country (lasting 3 to 5 days). It is held at different times around the Kingdom. It is for this festival that Bhutanese dress themselves in their finest attire and make a day of it. They flock to the celebrations often with homecooked picnic lunches.

The centre piece of attraction are the various mask dances that have many themes from ground purification and victory over the evil spirits to the conduction of one's Karma and depiction of the eight forms of manifestation that the Guru took to overcome various deities in propagating Buddhism. The picture above was taken at Paro tsechu.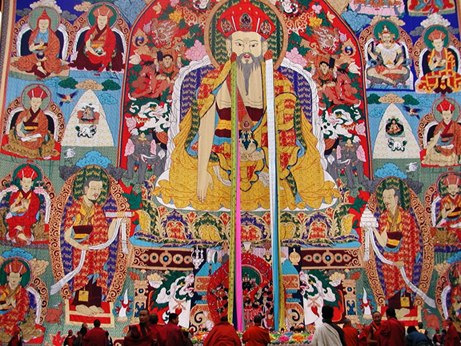 Bhutan Tsechus:
Tsechu festivals usually end with the unfurling of a giant Thangka (a huge embroidery cloth piece depicting a religious figure predominantly that of the Guru). This is popularly known as
(right) Thongdruel
('Thong' meaning to witness or see and 'Druel' meaning to free or release). Bhutanese believe that a look at the giant Thangka blesses them and releases them from the chain of cyclic sins. To read more please click here for
festivals, festival dates
and
festival tours.

---