Bhutan Rebirth: Tour Operator –  Ten Stars!
A Ten Star Review: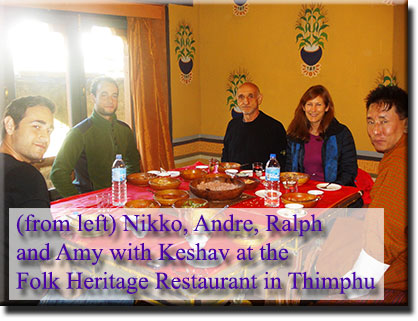 My family and I just returned from an impeccably organized 9-day custom trekking and cultural tour of Bhutan. We were fortunate to have chosen Bhutan Rebirth as our tour operator. The two partners excel in trip planning (Keshav) and logistics (Kieran). The company is stupendous. 
First, planning the trip. There are over 100 tour operators in Bhutan, and it is difficult to choose among them.  I emailed quite a few, and almost all responded promptly and informatively. But Bhutan Rebirth stood out from the pack.  Keshav worked closely with me to arrange a custom trip that accommodated each member of my family. He listened, suggested, made calls, researched and created an ideal, personal and diverse itinerary for us. No detail was too trivial. He responded promptly to my infinite, almost daily emails – dozens and dozens of them. His passion, personal touch and professionalism distinguished him. In the background, his partner Kieran meticulously handled all of the logistics, including securing mountain bikes for a day.  The entire trip was flawless.
Bhutan Rebirth was also the only company to offer us a discount from the daily tariff for booking directly with them, and they provided a detailed spreadsheet of all costs so that I could manage the trip to match my budget.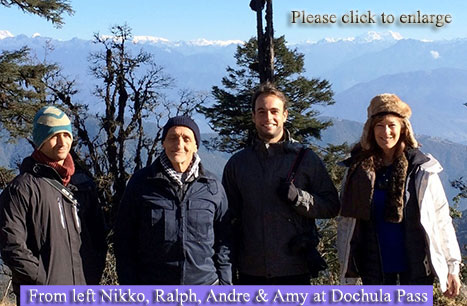 Some companies believe "one guide fits all", but a talent of Keshav is to match you with the perfect pair of guide and driver. Our guide, who is one of the most experienced cultural and trekking guides in Bhutan, has worked with Bhutan Rebirth for over 16 years. Gyempo has an engaging personality, a sense of humor and the respect of everyone we encountered. Now back home, we miss his erudition and the sound of his voice. And Sungai, our driver, carefully, deftly and swiftly drove us over the most challenging roads I've ever been on, earning our complete confidence. The two worked beautifully together. They shot darts and archery with our boys, repaired a souvenir I had bought and broken, and treated us to authentic non-touristy experiences as we requested.
 One of many highlights: Most tours stop at Dochula Pass for lunch and photos, but we also hiked up past a yak herd to the Lungchu Tsey temple. There we rested in the warm sun, up in the clouds outside the meditation huts, where a monk kindly served us milk tea and biscuits. It is touches like this that make Bhutan Rebirth shine.
 Early December is an ideal time to visit Bhutan; the skies are clear, the air is crisp and there are few tourists. But any time of year, if you want a reliable and remarkable tour company, I wholeheartedly recommend Bhutan Rebirth.
- Amy
Pomfret, Vermont, USA
(Photo courtesy: Amy)