Where is Bhutan?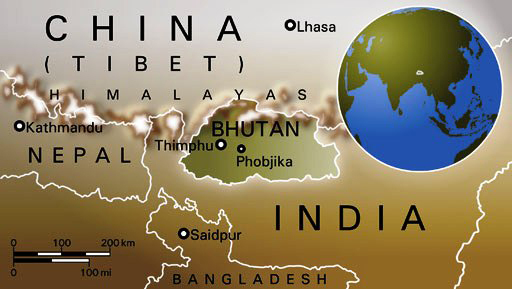 The Kingdom of Bhutan is a landlocked country high up in the Himalayas between Tibet and India. From West to East it is about 300 kilometers (km) long while it runs 150 km north to south. With an area of about 46,500 square kilometers (roughly the size of Switzerland), its GPS Coordinates are between longitudes 88045' and 92010' East and latitudes 26040' and 28015' North. It is bounded by India in the South and South-West while in the North and North-West the Tibetan autonomous region of China borders Bhutan.
Virtually the entire country is mountainous, and ranges in elevation from 100 m along the Indian border to the 7,554 m Kulagangri peak on the Tibetan border. These two extremes frame a landscape which stretches from sub-tropical to arctic like conditions.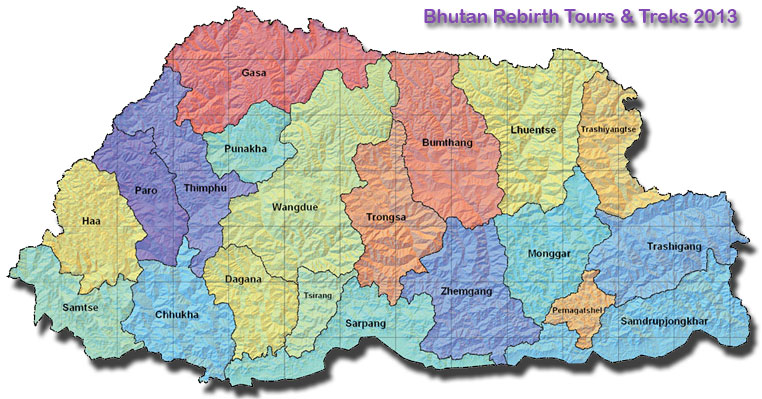 *. Bhutan is divided into 20 Districts, called Dzongkhags.
Bhutan Drainage/River system:
Rivers play an important role in Bhutan's physical, economic, social and cultural geography. In their upper reaches, most Bhutanese rivers have created large fertile valleys such as those of Paro, Punakha, Thimphu and Bumthang. As the rivers pass through the centre of Bhutan, the valleys become steeper and narrower, and roads have to climb high on the hillside. The principal rivers of the country are; South Bhutan-Ammo Chhu; West Bhutan- Paro Chhu, Wang Chhu, Punatsang Chhu, Pho Chhu, Mo Chhu; Central & East Bhutan- Dangme Chhu (Manas Chhu), Mangde Chhu, and Changkhar Chhu. You must be guessing 'Chhu' means water or river. And you would be right.
Bhutan Kayaking and Rafting:
These tours come under Bhutan Rebirth's Special Interest Tours and you will have to write to us directly at
bhutanrebirth@gmail.com
. The clean and clear rivers of Bhutan are one of the kingdom's best kept open secrets. Fed by the Eastern Himalayas, the six rivers (Wang Chhu, Sunkosh, Puna Tsang Chhu, Mangde Chhu, Kuri Chhu and Dangme Chhu and their tributaries) have been scouted for kayaking and rafting. They cut through high valleys and low plains to meet up with the Brahmaputra River in India. The natural setting and the sheer variety of the rivers' courses makes up for a unique opportunity to explore Bhutan's beautiful wilderness. It is more than a teaser and an invitation to anyone interested in adventure travels. The rivers are plentiful with high currents and depths reaching a maximum of about five meters; at places it passes gently on and in others the rivers rage through loudly, dominating the environs. Although adventure sports and tourism are relatively recent introductions, it is gaining on in popularity. The sport offers something for everyone: There is easy rafting for beginners and hair-raising runs for the veterans. Besides the rafts and the kayaks, Bhutan Rebirth also organise walking and trekking expeditions along the scenic river banks. The best time for rafting and kayaking is from March to April and November to December. If you are interested in Rafting and Kayaking, Bhutan Rebirth can arrange for these "Special Interest" Tours.
Safety:
• Bhutanese rafting and kayaking guides are well trained and will do everything to ensure that you enjoy the adventures minus the risks.
• The rivers of Bhutan were first graded for water sports in 1997 by the experienced duo Gerry Mofatt and Peter Knowles at the invitation of the Royal Government, under the erstwhile Department of Tourism to survey potential routes.
• They trained the first batch of Bhutanese river-guides and conducted surveys.
• Since then, other rivers have been surveyed including the Punatsang Chhu, Manas and Amo Chhu.
• TCB guidelines ensure that all operators use well maintained professional equipment and a reasonable guide-client ratio
Bhutan Climate:
Bhutan's climate varies widely depending upon elevation. In the southern region it is tropical, with a monsoon season and the eastern part is warmer than the west. The central valleys of Punakha, Wangduephodrang, Mongar, Trashigang and Lhuentse enjoy a semi-tropical climate with cool winters, whereas Paro, Thimphu, Trongsa and Bumthang have a relatively harsher climate including snowfall in the winter. In the valleys where most tourist activities are concentrated, the winters (mid-November to mid-March) are dry with daytime temperatures of 16 – 18 degree centigrade while evening and early morning are cold with night time temperatures sometimes falling below zero.
Spring lasts from mid-March to the beginning of June, with temperatures warming gradually to 27-29 degree centigrade by day and about 18 degree centigrade at night. However, cold spells are possible up until the end of April, with a chance of new snow on the mountains above the valleys. Strong, gusty winds start blowing almost everyday from noon to early evening . The first storms break and become more and more frequent with the approach of the monsoon which arrives in mid-June. The country receives abundant rain especially in the south, as it gets the full face of monsoon coming from the Bay of Bengal to which the mountains form a barrier. At the end of September, after the last of the big rains, autumn suddenly arrives and the sky gets clearer, a brisk breeze picks up and temperature starts falling towards freezing at night although bright sunshine continues to keep the days warm. Autumn is a magnificent season that lasts until mid-November and it is the best time to visit this fascinating mountain Kingdom.

---