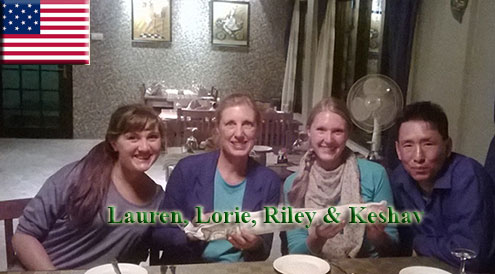 Thank you for such an excellent trip! We were both very impressed by the quality of this tour. The trip was tailored to fit us, allowing us to do what we enjoy, which made it very special. Our guide is very knowledgeable and it was very enjoyable to hear to hear him talk about each of the sites. Our driver was very good, and got us over every mountain pass safely. We loved visiting Bhutan and hope to visit again soon. Thank you for such a wonderful experience.
Best regards, Lorie & Riley (UK)
July 2014
- Lauren was already here on a school study trip with the Ugyen Wangchuck Institute for Conservation and Environment and Lorie and Riley came to experience the country she was in :)
Two Happy Birthdays in February 2014 for our guests in Bhutan!
17 February 2014: Happy Birthday, Jan!!!
23 February 2014: Happy Birthday, Oi Lin!!!


"Everything was Absolutely Fantastic! Our tour guide, Gyembo and our Driver, Choki, were wonderful. This is a trip we will NEVER forget! WE LOVED BHUTAN!!""


"Thank you for the arrangements during my time in Bhutan. I was nourished with the great Bhutan Culture and traditions, and fed with great food, especially great lunch in all the great restaurants"
After contacting Bhutan Rebirth, Keshav took a lot of trouble to work out what we were interested in, and arranged a super holiday with a great guide and excellent...
Read more>>>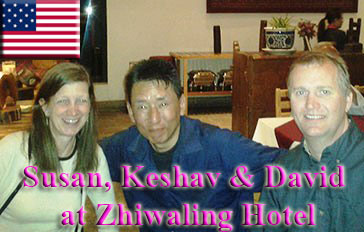 This is to recommend our guide Lhakpa Tshering and driver Kinley Tenzin. We very much enjoyed being with them and would be happy to go with them again. They were both very helpful and polite. They were very kind and always on time. We feel like we are leaving our sons and will miss them very much. Our guide was very knowledgeable, he answered all our questions and was fun to be with. The drive was very safe, the car was very clean and we always had water. They were both very good about watching to see if we were taking a photo and would stop the car without being asked. The food was very good. We love Bhutan and hope to come back again. Excellent Trip!!
- Susan and David Hosier (USA)
I am particularly impressed by your sincerity and professionalism in arranging my tour in Bhutan. Good communication and arrangement for my request like school visit and homestay. And also perfect in carrying out titleernative options/plans (e.g. change homestay to hotel.)

The tour guide and driver also shows their passion & professionalism. We have a wonderful time here.

Looking forward to the next trip to Bhutan.

Regards,

Pablo from Hong Kong,22 April 2014
Both Lhakpa and Ngawang provided extraordinary service for my time in Bhutan. Lhakpa had very interesting information to impart for every place we went and was very agreeable to whatever random itinerary revisions I wanted to make.

Ngawang provided excellent, cautious driving and never gave a hint of complaint, even when my detour to Punakha kept us on the road until 11 PM when we were returning to Paro.

I had a great time in Bhutan. Wish I had longer than 1 week!

Brian (USA)
Driver: Phub was an excellent driver, careful, efficient and quick. We were always on time and felt safe. Helpful, always ready to stop for pictures. Contributed to conversations and providided helpful information. Overall we were very content.

Tour Guide: Robin did a fantastic job as well. He was looking after us, being very observant and caring. Organized everything (also extra demands & itinerary changes) in detail and went out of his way to make our trip as memorable and interesting as possible. He was very knowlesgeable and entertained us during the long drives. Overall nothing to complain about!

MANY THANKS FOR EVERYTHING!!

Du Le Quach & Huu Phuc Nguyel (Germany)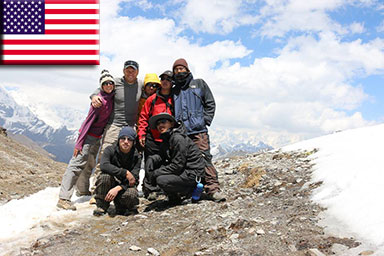 Thanks so much for taking such good care of  us during the trek and answering the million questions we had. This has been an amazing trip and we're so glad we got to enjoy it with you. Good luck with all your work and other adventures in life and let us know if you're ever in Bangkok!
- Jen & Steve (US)
The booking process was easy going with Keshav assisting on the itinerary. The payment system was a little confusing (perhaps it was just me?) My guide, Lhakpa was extremely friendly and welcoming. I enjoyed listening to the information given on Bhutan, its culture, religion, history. Any questions I had he was more than capable of answering- very knowledgeable ! Jimmy the driver was great, very careful and a sweet guy with interesting stories to tell. The hotels were great, my favourite being the hotel in Thimphu. I have thoroughly enjoyed my visit to Bhutan and will recommend Bhutan Rebirth to anyone interested in coming. Wonderful country and a unique experience all round. Thank you very much!

- Carla (UK)
Contact us at Bhutan Rebirth with ANY queries
---

---

Mariana Novo Catala, Mexico
"Thank you very much for making my stay in this country an unforgettable one. I feel I have rebirthed in some way. It was an amazing experience. Keshav, Pema and Kurung were exceptional and made everything possible to provide me with the best experience. I'm very grateful to them."