Bhutan Visa Form and Miscellaneous Information
On this page you will find information on Average Temperatures>>Driving Times>>Tour Guides>>Visa Formalities & Visa Form>>Getting into Bhutan>>Customs>>Hotels>When to Travel>>Transport>>5 Steps to Bhutan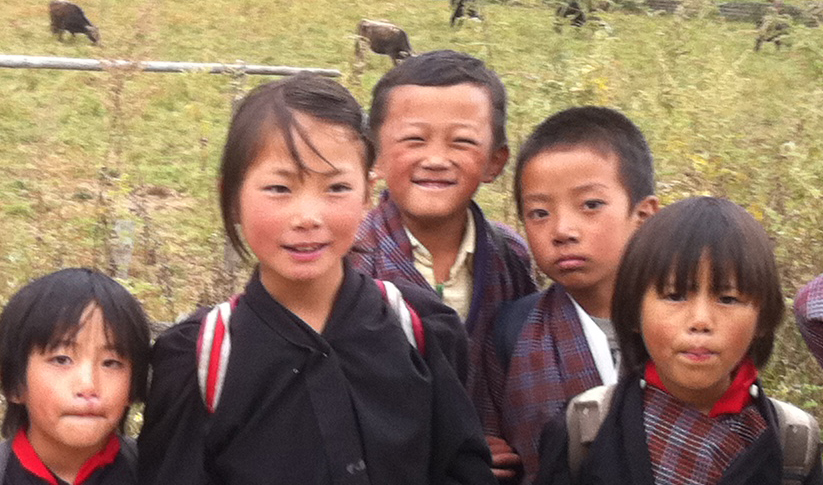 ---
Figures in Centigrade

Paro

Thimphu

Punakha

Wangdue

Trongsa

Bumthang

Mongar

Trashigang

JAN

MAX

9.4

12.3

16.1

17.0

13.0

10.8

15.5

20.4

MIN

-5.8

-2.6

4.2

4.3

-0.2

-5.1

8.2

10.5

FEB

MAX

13.4

14.4

19.6

19.0

13.9

10,.0

15.9

21.7

MIN

1.5

0.6

5.3

7.8

0.4

-1.4

8.3

11.5

MAR

MAX

14.5

16.4

21.1

22.8

16.7

16.2

20.0

24.8

MIN

0.6

3.9

9.2

10.4

4.4

3.5

11.6

14.4

APR

MAX

17.6

20.0

24.4

26.2

20.1

18.7

2.8

28.3

MIN

4.6

7.1

11.2

12.9

6.6

3.9

14.0

17.0

MAY

MAX

23.5

22.5

27.2

29.1

21.0

21.3

25.1

30.0

MIN

10.6

13.1

14.2

17.7

11.6

9.5

17.4

20.6

JUN

MAX

25.4

24.4

31.2

29.2

22.2

22.5

26.1

30.7

MIN

14.1

15.2

19.5

20.1

13.6

3.5

19.5

22.6

JUL

MAX

26.8

18.9

32.0

18.4

25.3

14.1

16.1

30.5

MIN

14.9

13.4

21.6

16.2

15.3

10.9

15.8

23.1

AUG

MAX

25.3

25.0

31.4

29.1

23.8

23.0

25.4

30.2

MIN

14.7

15.8

19.8

20.0

15.0

13.7

19.6

22.7

SEPT

MAX

23.4

23.1

29.9

27.5

22.6

21.6

24.7

30.0

MIN

11.7

15.0

20.4

19.1

14.2

12.1

19.4

23.9

OCT

MAX

18.7

21.9

27.8

26.1

21.8

19.5

22.7

29.1

MIN

7.4

12.4

18.9

14.7

11.7

5.9

15.8

17.7

NOV

MAX

13.9

17.9

22.3

22.6

19.8

16.1

19.9

26.1

MIN

1.4

5.0

13.0

9.6

6.4

-0.5

11.2

13.6

DEC

MAX

11.2

14.5

15.0

19.1

18.2

12.3

15.7

23.0

MIN

-1.7

-1.1

7.9

6.3

2.5

-2.3

9.5

11.6
---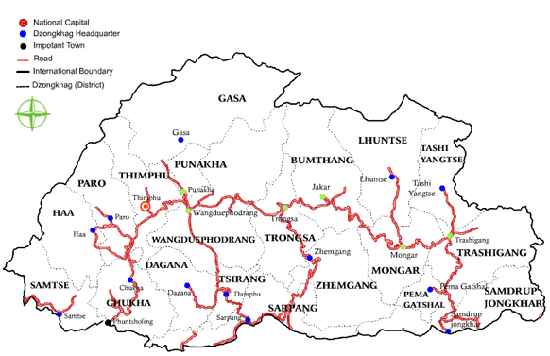 | | | | |
| --- | --- | --- | --- |
| From | To | Distance (km) | Driving Time (approx.) |
| Thimphu | Paro | 54 | 1 hour |
| Thimphu | Phuentsholing | 171 | 6 hours |
| Phuentsholing | Bagdogra (India) | 170 | 4 hours |
| Thimphu | Wangdue | 70 | 3 hours |
| Thimphu | Punakha | 71 | 3 hours |
| Punakha | Wangdue | 23 | 45 minutes |
| Wangdue | Trongsa | 129 | 4 hours 30 minutes |
| Trongsa | Bumthang | 68 | 2 hours 30 minutes |
| Bumthang | Mongar | 193 | 7 hours |
| Mongar | Lhuentse | 75 | 3 hours |
| Mongar | Trashigang | 91 | 3 hours 30 minutes |
| Trashigang | Chorten Kora | 51 | 2 hours |
| Trashigang | Samdrup Jongkhar | 180 | 6 hours 30 minutes |
| Samdrup Jongkhar | Guwahati (Assam, India) | 101 | 3 hours |
| Samdrup Jongkhar | Phuentsholing | 356 | 9 hours |
For Clients traveling in peak seasons and Festivals time, it is necessary to book the Tour at least 2 1/2 months in advance. Festivals held in autumn and spring are peak times for tourists and without early reservation it can be difficult to confirm flights and hotels.
---
Licensed Bhutanese travel guides will introduce you to the many facets of this wonderful country. Our tour guides are trained and certified by the Government's Tourism Council of Bhutan (TCB) and refresher courses are given frequently to update their knowledge and standards. They all speak fluent english and are well versed in the country's history and traditions.
---
Arranging your travel to Bhutan is not as difficult as you may assume. Once you get in touch with us, you will be advised to produce the necessary documents to process your visas and your travel can be arranged within a few days including your visas, Drukair flights, hotels, guides, transport and other logistics.
Bhutan visas can be arranged by us (Bhutan Rebirth is registered by the Government of Bhutan). No foreign missions or embassies abroad sanction tourists' visas. As per the government regulations, you are required to make full tour payment in advance and upon receipt of full payment, the TCB will permit Bhutan Rebirth to apply for visa on your behalf, and get the visa clearance for you. Remember that visa clearance takes a minimum of 10 days. To enable us to process your visa on time, your visa application must reach us at least 60 days before the date of your travel. The Immigration Department will then issue a visa authorisation letter to enable you to board the Druk Air flight to Bhutan. The actual visa will be issued and stamped in your passport when you arrive at one of the four ports of entry (either at Paro Airport or, if entering by road, at Phuentsholing or Samdrup Jongkhar). You will have to carry a copy of the Bhutan visa confirmation letter along with you always. Some airports do not allow you to board Drukair flights if you do not have this copy.
For the visa application process, you will have to send scanned copies of your passport. Or please click here to open the PDF format Visa Application Form, fill in your details online or by hand (this file cannot be saved so if you type in your information it has to be printed as soon as you fill it) and you may fax it to us at +975 2 324520 or email a scanned copy to us. Please make sure that you print all the details correctly. As mentioned, visas are issued only when you arrive in the country. Visa fee is US$ 40.
As travel to Bhutan almost invariably requires at least one flight change in India, Nepal, or Thailand, please ensure that you can meet the visa requirements of those countries before departing on your journey. Nepal and Thailand offer visa on arrival or visa waiver for many nationalities. India generally requires visa procedures to be completed before arrival, and this can take upto two weeks.
---
There are two ways by which you can travel to Bhutan: Either by Druk Air or overland through Phuentsholing or Samdrup Jongkhar, small towns in south Bhutan and east Bhutan respectively, bordering Indian state of West Bengal and Assam. Drukair, the only national airline of Bhutan services to and from Bangkok (Thailand), Delhi (India), Kathmandu (Nepal), Kolkota (India), Dhaka (Bangladesh), Bagdogra (India, near Sikkim and Darjeeling) and Singapore. Overland entry from Phuentsholing of flying from Bagdogra to Paro (30 minutes flight time) is more convenient if you wish to tour Sikkim (India) and Darjeeling before your tour in Bhutan. You can also enter/exit from Samdrup Jongkhar, a town in south-east of Bhutan bordering Assam. This exit is more convenient if you wish to tour Assam after/before Bhutan without tracing back the same lateral route back to Paro for your flight to other destinations.
---
The following articles are exempt from duty:
- Personal effects and articles for day-to-day use by the visitor
- One litre of alcohol
- 200 cigarettes, on payment of import duty of 200%
- Instruments, apparatus or appliances for professional use
- Photographic equipment, video cameras, and other electronic goods for personal use
You have to complete the passenger declaration form on your arrival before checking out. The articles mentioned under (d) & (e) must be declared on the declaration form. If any such items are disposed of in Bhutan by sale or gift, they are liable for customs duty. On departure, visitors are required to surrender their forms to the customs authorities.
Import/export of the following goods are strictly prohibited:
1) Arms, ammunitions, and explosives
2) All narcotics and drugs except medically prescribed drugs
3) Wildlife products, especially those of endangered species
4) Antiques
Imports of plants, soils, etc., are subject to quarantine regulations. These items must be cleared on arrival. Visitors are advised to be cautious in purchasing old and used items, especially of religious or cultural significance, as such items may not be exported without a clearance certificate.
---
We take utmost care in selecting your hotels. In your Bhutan tour package, we provide you three star hotels wherever possible. All these hotels are approved and classified by the Tourism Council of Bhutan and they are clean and well maintained ones with choices of Bhutanese, Indian, Chinese and Continental foods. There are a few luxury hotels in Bhutan -- Uma (Paro & Thimphu), Aman Kora (Paro & Thimphu), Taj Tashi (Thimphu) and Zhiwaling (Paro), which have come up recently. These hotels do not fall under government categorized hotels and they have their own (higher) rates. If you wish to stay in any of these hotels, you will have to meet the expenses of these hotels yourself in addition to the daily tariff.
---
Touring and trekking in Bhutan is possible all year round except in the months of July and August when it is a little wet for tour. Spring (months of March, April & May) and Autumn (months of September, October & November) are the best seasons for travel to Bhutan as there are festivals in different places during these months. Spring season is warmer with flowers blooming around, while Autumn although a little colder in the morning and evening, the days are warmer with clear blue sky for great sceneries.
---
The cost that we provide includes land transport within Bhutan including airport transfers. The car is going to be with you throughout the day and can be used for off tour- meaning ferrying you to and from the market or any other drop or pick up. We take utmost care of your safety and comfort while travelling in Bhutan. We always provide well maintained cars with experienced drivers.
For one to two people, we use comfortable SUVs 4WD cars such as Toyota Land Cruiser Prado and Korean cars like Tucson, Santa Fe and Terracan.
For three to five people in a group, we provide comfortable Korean Hyundai H1 and Toyota Hi-ace buses and for five people and above, we provide AC Toyota coaster buses.
---
HOW TO GET TO BHUTAN
1. Choose the type of visit you would like to make
We offer a variety of packaged tours for a full cultural experience. If you are into more a more physically challenging or adventurous visit, we offer many treks with varying levels of difficulty. See our
Cultural Tours
or
Exotic Treks
or
Festival Tours
for some recommended itineraries and readymade packages. We can also tailor a visit to suit your specific interests. For example, you could have a trek in the middle of a tour.
2. Decide on the dates to visit Bhutan
Bhutan has four seasons and the best seasons to visit Bhutan are spring and autumn. These seasons not only coincide with the best weather, but there are also many Tsechu festivals taking place at this time.
3. Contact us
Get in touch with us through email to arrange a visit. We will process your visa in Thimphu. Visas have to approved by the Ministry of Foreign Affairs, Thimphu, and are issued on arrival. Druk Air will not issue your tickets unless they have received this sanction. We will also arrange your Druk Air tickets for flights to and from Bhutan. All other logistical arrangements like hotel rooms, transport and guides will be arranged by us in consultation with you.
4. Confirm your payments and formalities
Once your payments and logistics are complete, there is only one step left.
5. We are waiting for you at Paro!

bhutanrebirth@gmail.com
---