Bhutan Package Cultural Tours 2016
---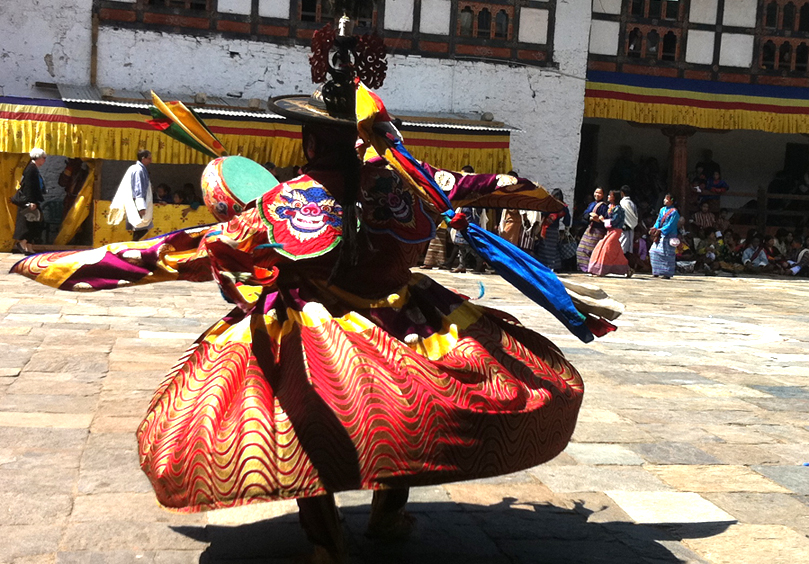 Background: Cultural Tours allows you to absorb yourself deep into the culture and traditions of the country that is Bhutan. Festivals take place all around the Kingdom, at various times, each unique in its own way, that for the Bhutanese is a very important and enjoyable part of their lives. You will be surprised that the culture and the traditional lifestyle are still richly intact and to a degree which permeates all strands of modern day secular life. From the traditional woven garments to the prayer flags on high mountain slopes, the man-made to the natural environment, from the religious mask dances to the folk dances, this cultural heritage is proudly evident and offers a unique enriching setting.
The most striking expressions of Bhutan are the annual festivals known as Tsechus which bring together the population of the district, and an ideal occasion to get the feel of the nation's pulse.
Bhutan Rebirth has some package tours based on past experience of what is popular both for visitors as well as for the Bhutanese people. These tours may not only be taken anytime of the year but also be tailormade to fit your desires and convenience. We can combine your choice of tour with any of these festivals to make your stay in Bhutan a memorable and interesting one. The tours that are specific to festivals can be found under the Festivals link (also on the main page links). The following are the Cultural Tours' package deals offered to you by Bhutan Rebirth:
---
Please Note:
High Season- March, April, May, September, October & November
Low Season- January, February, June, July, August & December
| | | | | | | | | | | | |
| --- | --- | --- | --- | --- | --- | --- | --- | --- | --- | --- | --- |
| Jan | Feb | Mar | Apr | May | Jun | July | Aug | Sept | Oct | Nov | Dec |
| | | | | | | | | | | | |
* Prices (costs) quoted below are for the entire holiday from start to end except for Druk Air costs (depends on sector chosen) and visa (US$ 40).
Package Costs depend on number of Guests and duration as shown on main page
---
Note: In the Eastern Bhutan tour you also have the choice of exiting by road to Assam, India from the Eastern town of Samdrup Jongkhar.
---
The above tours are not bound by time and thus can be taken anytime of the year. For cultural tours based on times of Festivals please click here.
---
Note: For Clients traveling in peak season and Festival time, it is necessary to book the Tour at least 2 1/2 months in advance. Festivals held in autumn and spring are peak time for tourists and without early reservation it can be difficult to confirm flights and hotels.
These package cultural tours have been designed based on past experiences of visitors to Bhutan and how they felt about various programs. The tours are such that you can gain the maximum out of this experience without exhausting you. The tours can be taken anytime throughout the year. However, these ready-made itineraries may not be convenient for some visitors. That is why we would be very happy to, along with you, design a new itinerary to fit all criteria and interests as desired by you including increasing or decreasing the period of tour. Please write to us with your special interests and/or requirements at:

---