[ Thimphu Festival Tour | Thangbi Mani Festival Tour | Jambay Lhakhang Drup Tsechu Festival Tour | Black Crane Festival Phobjikha Tour | Punakha Domchey Festival Eight Nights Tour | Punakha Domchey Festival Ten Nights Tour | Chorten Kora Tsechu (arrive Paro, Depart Paro) | Chorten Kora Tsechu (arrive Paro, exit India) | Chorten Kora Tsechu (arrive India, exit Paro) | Gom Kora Tsechu (enter Paro, exit Paro) | Gom Kora Tsechu (enter Paro, exit India) | Gom Kora Tsechu (enter India, exit Paro) | Paro Tsechu Festival Tour | Paro Tsechu Festival 7 Dzongkhags Tour | Paro Tsechu Festival Tour with Druk Path Trek | Ura Yakchoe Festival Tour ]
---
Black Necked Crane Festival Phobjikha Tour - 12 Nights 13 Days
Western Bhutan
Dzongkhags Visited: Paro, Punakha, Wangdue, Bumthang, Thimphu
---
Duration: 12 Nights 13 Days.
Trip Grade: Easy
---
Itinerary Outline:
Day 01: Arrive in Paro
Day 02: Paro Sightseeing
Day 03: Paro to Punakha via Dochula
Day 04: Punakha and Wangdue Sightseeing
Day 05: Wangdue to Phobjikha
Day 06: Day 6: Black Necked Crane Festival, Phobjikha
Day 07: Phobjikha to Bumthang
Day 08: Bumthang Sightseeing
Day 09: Bumthang to Wangdue
Day 10: Wangdue to Thimphu
Day 11: Thimphu to Paro
Day 12: Paro-Haa Sightseeing
Day 13: Departure
---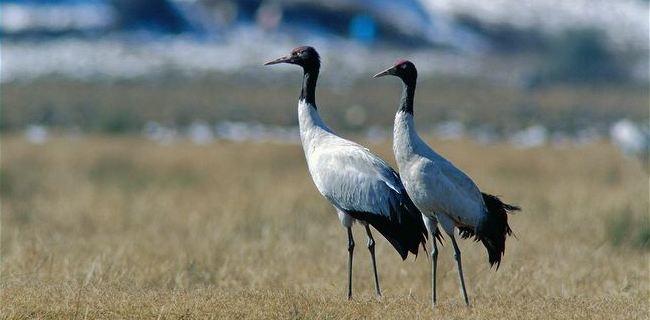 Trip Overview:
Bhutan, 'The Land of the Thunder Dragon', is the last independent Himalayan kingdom, a stronghold of Tibetan Buddhism, with a unique culture which has been protected over centuries both by the remote mountainous terrain and by a self-imposed policy of isolation from outside influences.
The opportunity to travel in Bhutan is undoubtedly a special privilege, restricted to a very small number of visitors annually. A magnificent panorama of Himalayan peaks form the backdrop to vast undisturbed forests of hemlock, rhododendron and magnolia, and traditional wooden and stone-built villages are dominated by strategically-sited dzongs, the great mediaeval monastery/fortresses which safeguard Bhutan's heritage.
In autumn, clear skies bring superlative views of the Himalayan peaks forming the border with Tibet and we journey to the remote Bumthang and Gangtey provinces to witness the colourful festival celebrating the return of the black-necked cranes. We stay in comfortable, very atmospheric, traditional hotels, enjoy local cuisine (with an emphasis on vegetables, rice and noodles with mildly spicy sauces), and experience Bhutanese life in close-up on a series of forest, paddy field, riverside and mountain walks.
---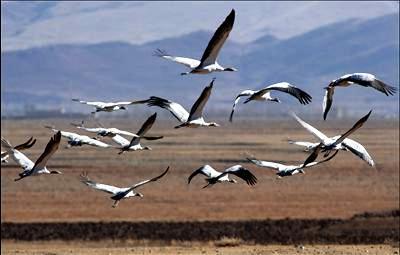 Detailed Itinerary:
Day 01: Arrive in Paro
Paro is the Gateway to Bhutan with Druk Air. A spectacular flight over the Himalayas on Druk (Dragon) Air brings us into Paro airport and a step back in time – Bhutanese in their national dress, oxen in the fields and archery, the national sport, is being played with bamboo bows on a grassy meadow in the middle of town. After settling into our beautifully decorated hotel, we set off to explore the imposing fortress of Rinpung Dzong, dating from 1645, and walk to the Ta Dzong, a huge mediaeval watchtower which now houses the National Museum of Bhutan.

Day 02: Paro Sightseeing
We walk up the Pa Chhu river valley from Drugyal dzong (a ruined fortress built to guard the western borders from invaders and control the trade route to Tibet), passing through hamlets with richly decorated wooden farmhouses where birds such as red and yellow-billed choughs and blue whistling thrush are common, and following an old trekking trail towards Jomolhari. We retrace our steps and cross the river, passing rice terraces and fields of millet. After a picnic we visit Kyichu, one of the oldest (7C) and most atmospheric monasteries, where monks can often be seen chanting and drumming.
Day 03: Paro to Punakha via Dochula
Following the sole, narrow paved road in Bhutan, we gradually ascend through chir pine forest to Dochula Pass (La means mountain pass) at 10,450 ft, with 108 chortens and a breathtaking vista of the Himalayan peaks. The forest becomes more luxuriant and the landscape wilder as we descend to Punakha (4,160 ft) on an afternoon walk (4 hours) down to the river, where white-capped water (can raft on this river ifyou are interested) darts across the clear water. Our modest hotel is set in pretty gardens and enjoys panoramic views.
Day 04: Punakha and Wangdue Sightseeing
We cross a narrow suspension bridge on foot to visit the enormous Pungthang Dechen Dzong, with its golden spires and busy monastic life, then walk through paddyfields up to the 15C temple of Chime Lhakhang, encircled by small prayer wheels and dedicated to the legendary lama Drukpa Kun-le, known as 'the Divine Madman'. Heading south and east, we pass the strategic junction at Wangduephodrang, guarded by the ruins of an impressive 17C dzong, destroyed by fire last year, en route to our charming riverside lodge, set in sub-tropical gardens, where we stay the night. Here we are at lower altitude (around 2,000 m), verging on the tropical zone, and there are many butterflies in the garden.
Day 05: Wangdue to Phobjikha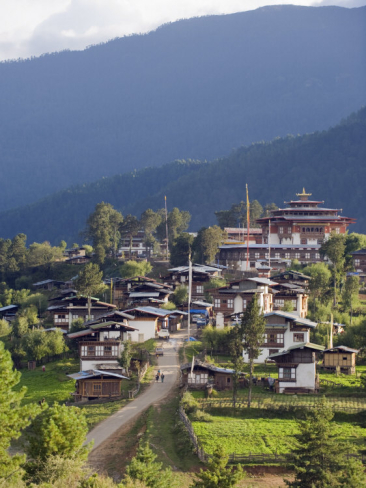 A dramatic drive takes us up to a high pass where we turn south to drop down into the Phobjika valley (10,000 ft), extensively grazed by yaks and winter home of rare black-necked cranes. We walk on springy turf across a huge glacial moraine to overlook the marshes and pools of the valley floor, then continue on foot up this isolated valley to our simple traditional guesthouse, run in authentic Bhutanese style. After lunch we walk in the higher pastures above the valley, where yaks graze on dwarf bamboo and the nomads live in their black yak-wool tents; have the opportunity to buy locally woven carpets, and visit the recently restored Gangteng monastery with its extensive murals depicting the Thousand Buddhas.
Day 06: Day 6: Black Necked Crane Festival, Phobjikha

The 11th of November is the Birth Anniversary of our Fourth King, Druk Gyalpo Jigme Singye Wangchuck. Colourful local festivals are very much part of life in Bhutan and today we watch the festivities held to celebrate the annual return of the black-necked cranes from their summer breeding grounds high on the Tibetan plateau – traditional dancing in special costumes, music and singing, and drinking butter tea and rice wine. After lunch a spectacularly scenic drive takes us deep into central Bhutan, over the Pele La (11,000 ft) and down into Tongsa which boasts the largest dzong in the kingdom, the ancestral home of the Royal family. Our hotel restaurant is noted for its delicious, authentic Bhutanese dishes, though the national dish, ema datshi -chilli cheese, may be a taste worth acquiring!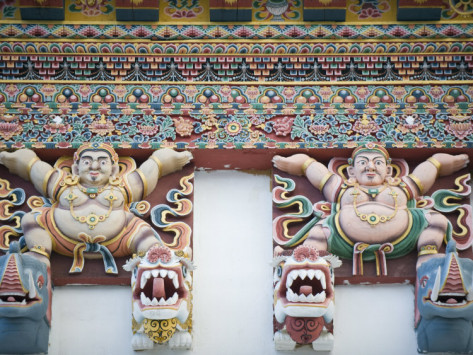 Day 07: Phobjikha to Bumthang

We visit the new Museum of the Royal Family (reached by an optional steep walk or a drive) and meet some very friendly monks before lunch. Crossing a final high pass, the Yotongla, we descend through stunning scenery into the glaciated Bumthang valley (8,450 ft), the cultural heartland of Bhutan, pausing en route to see traditional village weaving and to walk paths through superb stands of hemlock trees. Considered a sacred area, and very little visited by outsiders, life here has remained virtually unchanged for centuries, with agriculture and religious festivals marking the rhythm of each year. In our comfortable lodge each room has its own burkhari – wood burning stove.
Day 08: Bumthang Sightseeing

Setting off on foot we search for the elusive ibisbill on the river banks and Himalayan red deer in the meadows, watch sheep's cheese being made, see traditional watermills in action grinding buckwheat and cross a footbridge bright with prayer flags as we make our way to the magnificently decorated monastery of Kurje Lhakhang. After lunch we also explore the Jakar dzong, 'The Fortress of the White Bird' and the most revered and ancient of Bumthang's temples, the 7C Jampa Lhakhang.
Day 09: Bumthang to Wangdue
Returning slowly back over the mountains on a long day's drive (7.5 hours), we break the journey with pauses to look out for Himalayan griffon vultures and grey langur monkeys, to photograph the many stands of prayer flags and chortens along the route, and to walk especially scenic sections, before reaching our riverside lodge in the valley by late afternoon.

Day 10: Wangdue to Thimphu
We return over the high passes to the quiet capital, Thimphu (highest population approximately 100,000, and the only capital in the world with no traffic lights) where we visit the National Institute of Traditional Arts and Crafts and Tashichhodzong, the grand seat of the Bhutan government, with a series of ornately carved courtyards decorated with striking murals and relief sculptures. There is time to shop for handicrafts, especially woven silk, tangkha scrolls and masks, before we have an invitation to a private performance of traditional Bhutanese classical music and dance.
Day 11: Thimphu to Paro

We hike 2,000 ft up the ancient pilgrimage path which zigzags through oak and pine forest to Taktsang monastery, the celebrated Tiger's Lair. Founded by the legendary Guru Padmasambhava, who flew from eastern Bhutan on the back of a flaming tigress (in another form his consort, Yeshe Tshogey) to subdue demons opposed to the spread of Buddhism, this impressive monastery commands splendid views of the surrounding mountains.
Day 12: Paro-Haa Sightseeing
Travelling west of Paro, we walk high in the yak pastures on the slopes of Chelela, enjoying views across the Haa valley towards the border with Sikkim (weather dependent). Returning to our hotel, we may try a traditional Bhutanese hot stone bath before our farewell dinner.
Day 13: Departure
Our representative will bid you farewell and see you again.
---
As festival times are the most popular times for visitors to come to Bhutan, flight seats and hotel rooms will be on high demand. Book early to avoid disappointment.
---
---