[ Thimphu Festival Tour | Thangbi Mani Festival Tour | Jambay Lhakhang Drup Tsechu Festival Tour | Black Crane Festival Phobjikha Tour | Punakha Domchey Festival Eight Nights Tour | Punakha Domchey Festival Ten Nights Tour | Chorten Kora Tsechu (arrive Paro, Depart Paro) | Chorten Kora Tsechu (arrive Paro, exit India) | Chorten Kora Tsechu (arrive India, exit Paro) | Gom Kora Tsechu (enter Paro, exit Paro) | Gom Kora Tsechu (enter Paro, exit India) | Gom Kora Tsechu (enter

India, exit Paro) | Paro Tsechu Festival Tour | Paro Tsechu Festival 7 Dzongkhags Tour | Paro Tsechu Festival Tour with Druk Path Trek | Ura Yakchoe Festival Tour ]
---
Gomphu Kora (Gom Kora) Festival
(Enter Assam India by Road Exit Paro
- 12 Nights 13 Days)
- Trashiyangtse, Eastern Bhutan
Dzongkhags covered: Samdrup Jongkhar, Trashigang, Trashiyangtse, Gomkora, Mongar, Bumthang, Trongsa, Wangduephodrang, Punakha, Thimphu & Paro.
---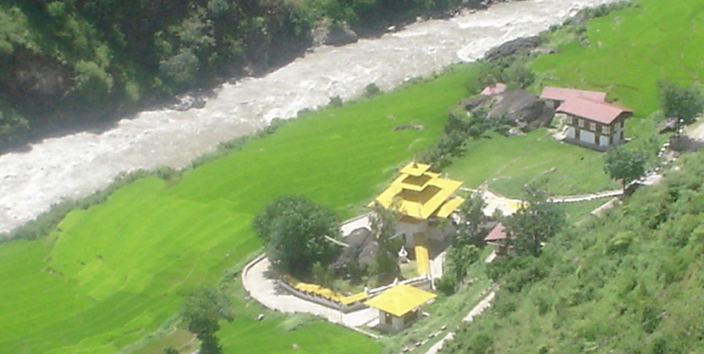 Bird's Eye View of Gom Kora Lhakhang (Temple) complex
---
Duration: 12 Nights 13 Days.
Trip Grade: Easy.
---
Itinerary Outline:
Day 1: Guwahati (India) – Samdrup Jongkhar (Bhutan)
Day 2: Samdrup Jongkhar – Trashigang
Day 3: Trashigang – Radhi/Phongmey (Day Excursion)
Day 4: Trashigang – Trashiyangtse
Day 5: Gom Kora Festival
Day 6: Gom Kora – Mongar
Day 7: Mongar – Bumthang
Day 8: Bumthang Sightseeing
Day 9: Bumthang – Punakha
Day 10: Punakha - Thimphu
Day 11: Thimphu sightseeing
Day 12: Thimphu - Paro
Day 13: Paro Departure
---
Trip Overview:
Located 32 km from Trashiyangtse and 2 km from Doksum is one of the Bhutan's sacred places blessed by Guru Rinpoche. It falls under Tongshang Gewog of Trashiyangtse and is situated near to the Trashiyangtse-Trashigang highway. Gom Kora (seen above) is also known as Gomphu Kora: "Gomphu" meaning meditation site of Guru Rimpoche (Gom-mediation and Phu-Cave) and "Kora" meaning circumambulation.
In order to honour Guru Rinpoche, people, mostly from eastern Bhutan such as Brokpa, Sharchokpa, Kurtoep and some people of central and western Bhutan as well as people from Aurnachal Pradesh gather to celebrate Gom Kora Tsechu. During the Tsechu people get together, sing and dance their own tune and some young as well as old men and women, especially in the evening, Gom Kora Tsechu is not only famous as a festival but also as one of the pilgrimage places. It is also a very famous time and place for young people to meet their lover.Circumambulate around the Lhakhang in search of their partner for the night and if they get their partner they vanish into the dark, nearby and play the game of love- there will be no one to question you whatever happens.
During the festival, you are free to do anything and any game which can be played between a male and a female in the night while making rounds of the Lhakhang & the big rock is played. It also provides you with an opportunity to meet the Brokpas, the nomadic people from the far eastern part of Bhutan.
The Legend of Gom Kora- The Visit of Guru Rinpoche to Gomphu Kora:-
Gomphu Kora is a site where Guru Rinpoche subdued the demon and legend has its story that Guru Rinpoche meditated in the Gomphu Kora Rock for Three months. Some say Guru meditated three days at Gomphu Kora and Three Months at Kapalihu. No books or sources are available and so cannot be ascertained for sure. It is possible that the documents of Gom Kora may be available with some of the people of Tawang. The document/manuscript of Gom Kora got burnt when the residence of the caretaker caught fire.

The Demon, Mongkhapa, locally known as Sewang Nagpo escaped from Tibet Samye (where the first Buddhist monastery in Tibet was built) during Guru's visit to Tibet following through Tawang and through Doksum and on reaching Gom Kora, he stopped fleeing further and took a hiding place near the river in the Black Big Stone. (It is also said that the Demon was called Gyenen Chophel alias Yonglha who was a classmate of Guru Rinpoche at Nalanda University who attained high level spiritual powers which took the Guru a long time to subdue.Yonglha was misled and he followed the wrong path and thus went against the Buddha Dharma.)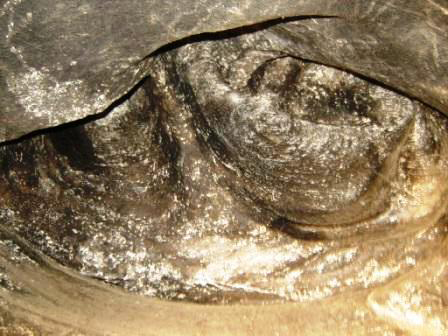 It is said that when the Guru was meditating near the stone the Demon attempted various tricks to escape from there and showed all demonic manifestations which even pierced the rock from the inside and made his way underground and even scared away Guru Rinpoche. Thus we can still see the Print of the Guru's Hand (left) in the entrance to the Rock. The demon's manifestation and power included piercing of the Rock and transformation of himself into a ferocious snake raised like a Cobra. Guru Rinpoche transformed himself to a Garuda (a large mythical Bird/Eagle-like creature) and tamed the Demon. The imprint of the snake can be seen on the exterior of the rock. From there the Demon escaped peircing through the rock and in the early days the demon made his way underground from the rock to the nearby river. It is said that later the underground tunnel was blocked for whichever people who went into the tunnel. Guru Rinpoche blessed the tunnel and transformed it into a sacred tunnel and whichever people enters this tunnel his or her sins are cleansed. The tunnel especially the exit is very narrow. According to the Legend it is said that the Demon escaped from the Gom Kora cave and then it was subdued forever in the stone cave and elevated as the protector of Gom Kora after reaching Tsergom, 3 kms from the Cave. We can still see the seal of oath at the Tsergom cave as a red seal of the Guru. Sometimes it is said that devotees who visit the Tsergom cave with faith and devotion can see the image of the Guru in the Thumbprint on the stone.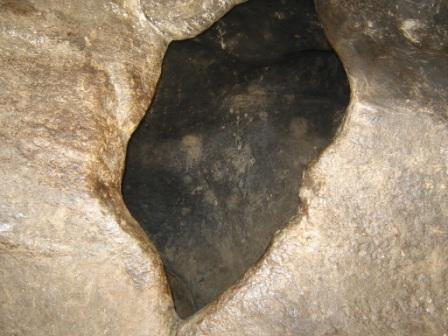 Yet some people believe that the Gom Kora Demon and the Tsergom Demon are different. And due to the absence of written text/manuscripts it is not sure whether they were the same or different. The entrance to the Stone Tunnel (seen right) can be found to the North Part of the Rock. And the exit from a different hole.
While Guru Rinpoche was residing at Gom Kora the Tibetan King, Thrisong Deutsen became seriously ill and bedridden. The message was sent to Guru who then sent his Disciple Atsara Salaioo to Meratika in Nepal to get the Tshebum. When his disciple returned from Nepal to Gom Kora with the Tshebum, the King passed away. The Tshebum brought from Meritaka was then concealed inside the rock as gTer and the Guru meditated for three days. During Auspicious days we can still see the drupchu/holy water coming out of the rock as holy water coming out from hidden gTer, Tshebum.Some artifacts like statue of Buddha, Dragons Egg, Dhamze Rilbu, Guru's footprint, Trangtring(small hand drum) of Guru, Guru's Pony and Footprint of Gurus Khandro can be seen at Gom Kora Lhakhang.
The Gom Kora Festival:
A Famous festival of the east, Gomkora or Gomphukora is celebrated on the Tenth day of the Bhutanese Second Month. The festival which draws people from all over Bhutan began 400 years ago after the Lhakhang was built by Lam Ngagi Wangchuk. The practise of wooing and marriage still previals during this three-day Festival. Right after the Chorten Kora festival, people go down for the Gom Kora festival including people from Tawang in Arunachal Pradesh, India. Businessmen and all types of people from all over has made Gomphukora Tshechu one of the most famous Festivals in Eastern Bhutan. As most people gather for the festival the business ventures during this festival runs good. Grocery, clothes sales, restaurants, gambling stalls, health exibitions,etc can be seen during these festival. Of the many places visited by Guru Rinpoche, Gom Kora is one of the most blessed sacred sites. Other places where the Guru visited are unknown to us or lost to us. Pilgrims and devotees who visit and pay homage where Guru Rinpoche has resided is a key and seed to liberation. Visiting sacred sites of Guru with faith and devotion would bless the devotee and fulfil his or her wishes and will be able to attain liberation from samsara (cycle of rebirth).
---
Detailed Itinerary:
Note: Entry and Exit can both be from Paro. One port has to be Paro however. Both cannot be Guawhati, India.
Day 01: Guwahati (India) – Samdrup Jongkhar (Bhutan)
At Guwahati International Airport, you will be received by the representative of Bhutan Rebirth Tours & Treks– for your Bhutan Experience. After meeting the guide and driver, we will drive to one of the restaurants in Guwahati for lunch and then we will drive to Samdrup Jongkhar. We will stop on the way for restroom and also for Indian Immigration. At Bhutan gate at Samdrup Jongkhar, we have to complete the immigration formalities, where our guide will assist you. Then we will check into the hotel. Dinner and overnight stay at Samdrup Jongkhar Hotel .
Day 02: Samdrup Jongkhar – Trashigang
After an early breakfast, we will drive to Trashigang. The drive will take about 7 hours through tropical and sub-tropical forests. Lunch will be served as a picnic lunch. Continue our journey to Trashigang. On reaching Khaling, we will visit Khaling Handloom Centre and at Kanglung we will visit Kanglung Zangtopleri. Dinner and overnight stay at Trashigang Hotel.
Day 03: Trashigang – Radhi/Phongmey (Day Excursion)
Today we will make a day excursion to Radhi/Phongmey Village with picnic lunch. We will be visiting the Rangjung Yozerchholing Lhakhang and Khardung Anim Dratshang (nunnery where young girls and women are perusing religious goals). In both the lhakhangs, photographs are allowed. Evening at leisure. Dinner and overnight stay at Trashigang Hotel.
Day 04: Trashigang – Trashiyangtse
Today we will visit Trashiyangtse district, visit Chorten Kora, the old Trashiyangtse Dzong with picnic lunch. Today overnight will be at Gom Kora either camping or at hotel. After our early dinner we will visit Gom Kora Lhakhang, where we will see people circumbulating the Lhakhang and the big rock with recitation or prayers and some even singing. You will enjoy the scene very much besides getting blessing for visiting these very important religious sites in the Buddhism world.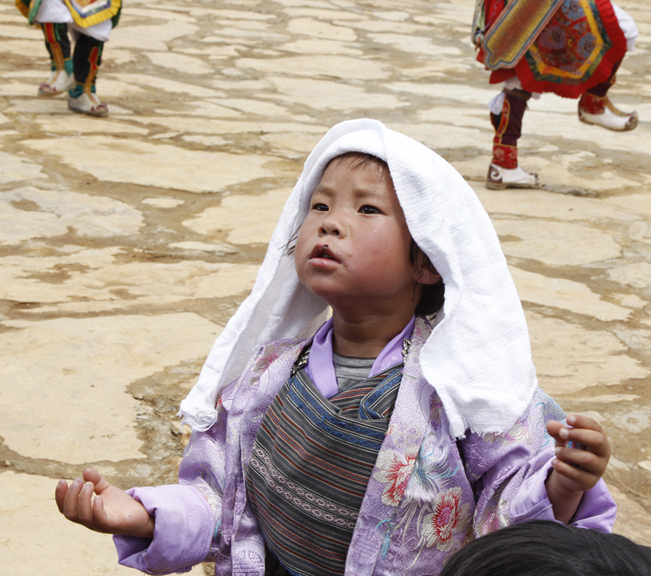 A Child seems to plead to the Gods at the festival...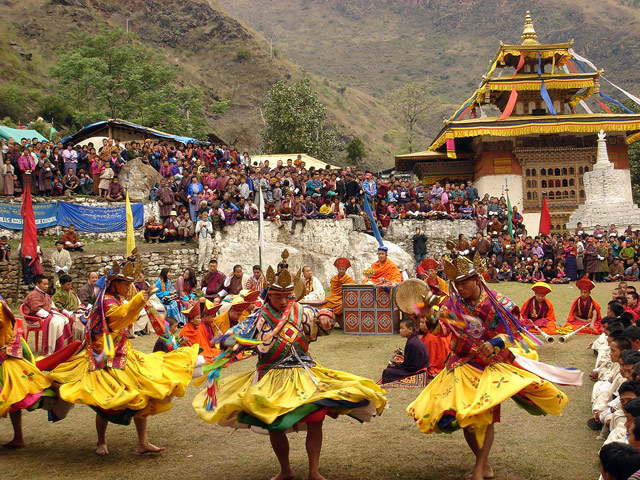 Day 05: Gom Kora Festival
Enjoy whole day at the festival. At right, crowds at the festival.
Dinner and overnight stay at Gomkora (Hotel/Camp)
Day 06: Gom Kora – Mongar
After our breakfast, we will drive to Mongar. The drive will take about 3 hours. On the way we will visit Drametse Lhakhang and Tashichhoepheling Lhakhang at Ngatshang. Here we will see the monks living areas etc. Lunch will be served as a picnic lunch. On reaching Mongar, we will visit Mongar Dzong and evening stroll around Mongar town. Dinner and overnight stay at Mongar hotel.
Day 07: Mongar – Bumthang
We will drive to Bumthang (Central Bhutan) with picnic lunch. At Ura, we will visit Ura Lhakhang and at Tang, we will visit Mebartsho (burning lake). Dinner and overnight stay at Bumthang hotel.
Day 08: Bumthang Sightseeing
Today we will do sightseeing in Bumthang valley- visit Jambay Lhakhang, Kurjey Lhakhang, Tamshing Lhakhang and Jakar Dzong. Lunch will be served at Bumthang Hotel. Then we will visit Cheese factory and Honey production centre. Towards evening we will visit Bhutanese Farm House for dinner, Hot Stone bath and we can also arrange overnight stay in a Farmhouse. You will have a great experience with the local Bhutanese.
Day 09: Bumthang – Punakha
We will drive to Punakha. The drive will take about 7 hours.at Trongsa, we will visit 'Tower of Trongsa', and then continue our journey to Punakha. Lunch will be served at Chendebji Resturant. After lunch we will walk from the restaurant till Chendebji Chhorten. On reaching Wangduephodrang, we will visit the remains of Wangdue Dzong which was burnt down in 2012. Renovation, however, is underway. Dinner and overnight stay at Punakha/Wangdue Hotel.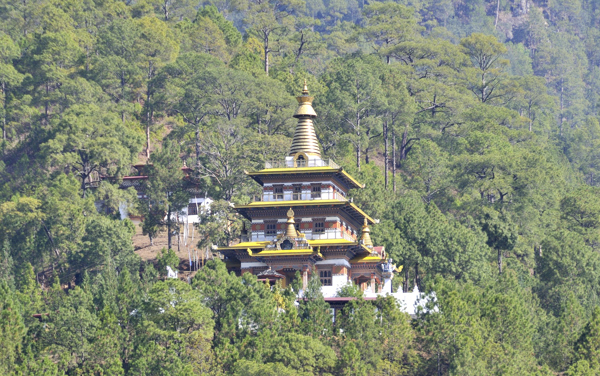 Day 10: Punakha- Thimphu
Drive till the view point of Khamsum Yule Namgyel Chorten (see left) at Kabesa Village and then visit Punakha Dzong, the most beautiful Dzong in Bhutan. At Lobesa, we will hike to Chhimi Lhakhang, the Temple of Fertility. The hike will take about 30 minutes through farm terraced fields. Lunch will be served at the Chhimi Lhakhang cafeteria. Then we will continue our journey to Thimphu, the capital city of Bhutan. Stroll around Thimphu town. If interested we will see night life in the capital of Bhutan after dinner. Dinner and overnight stay at Thimphu hotel.
Day 11: Thimphu sightseeing
Today we will do sightseeing in Thimphu - visit Memorial Chhorten, Changangkha Lhakhang, Mothithang mini zoo to see the National Animal of Bhutan (Takin), Zilukha Nunnery, Folk Heritage Museum and National Library. Lunch in Thimphu town. Also visit Paper Factory, Weaving Centre and then Handicrafts Emporium. Evening at Leisure. Dinner and overnight stay at Hotel in Thimphu.
Day 12: Thimphu - Paro
Drive to Paro and hike to Taktsang Monastery, which is one of the most important pilgrimage and sacred sites in the Buddhism world. The hike will take about 2 hours up a steep hill and about 1hour 30 minutes on our way back. Lunch will be served at the Taktsang Cafteria. On our way back to the hotel, we will visit Drugyal Dzong, which is in ruins and the Kyichu Lhakhang, which is one of the oldest temples in Bhutan. Dinner and overnight stay in Paro Hotel.
Day 13: Depart from Paro
Today we will drive to Paro International Airport to catch the flight to your next destination. Our guide and driver will bid you farewell and we wish you a safe and pleasant journey back home and hope to see you again in Bhutan.
---
Note: The above itinerary is just a sample itinerary intended to give you a general idea of Gom Kora Festival entering from Samdrup Jongkhar in South Eastern Bhutan and exiting from Paro, Western Bhutan. We can always customise and tailor an itinerary to suit your requirements and interests. You can contact us through the Contact Page or through the email given below.
---
---